July 6, 2012
The opportunity for summer reading is in full swing and the ads and targeted marketing tools for new professional books, beach reads, journals, etc. abound. As I was flipping through a brochure I received in the mail featuring some new professional books, I was amazed at the plethora of choices available. Yes, it is a great time to delve into new reading, yet how do we as educators filter the information we take in to ensure the most positive impact in our classrooms?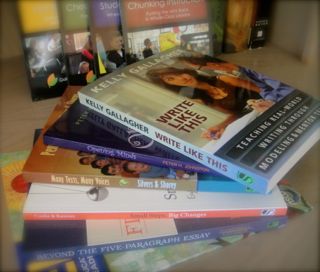 I finally realized it comes back to our personal belief system. If we don't have a strong belief system of our own in place, it makes it difficult to know how to discern what is of value in every new thing that comes along or what is to be disregarded. As we learn more each year of our profession, our belief system morphs and changes, becoming stronger based on our own experiences and research.
So we find that summer is a wonderful opportunity to take time to reflect, reconnect with and refine our beliefs. As we read professional books, blogs, articles and journals, we can utilize the new knowledge to adjust, buoy and solidify our belief systems. For as professionals we know that continuing the process of learning new things to help us become better at our craft is the greatest gift we can give our students.
Professional Development
Opportunities to learn more abound! Whether you want to collaborate with us in-person or prefer pd in your pjs, we have the instruction for you.

Live Workshops Online Seminars Graduate Courses