What is it?
35-days of daily routines to help you show up for yourself, your family, and your students. Each day, you'll focus on personal and professional growth, building connection with your students, and finding joy in your life. 
Why now?
Our teaching and learning environments have drastically changed, and it's easy to be overtaken by things outside of our control. Let's join together to build ourselves up from the inside-out. Although we're apart, we can keep showing up for our students—your impact is needed more than ever. You got this!
How it Works
Once you join, you'll receive a document via email to track your journey.
Every week, choose one word to guide your intention and record it in the weekly tracker.
Every day, record one thing you did or felt for each of the four categories: Student Connection, Professional Development, Joy, and Self-Care.
(BTW it's free!)
Daily Categories
Every day, record one thing that you did or felt for each category.
Sample Weekly Tracker
When you sign up, we'll send you a tracker document to write your weekly word and daily reflections.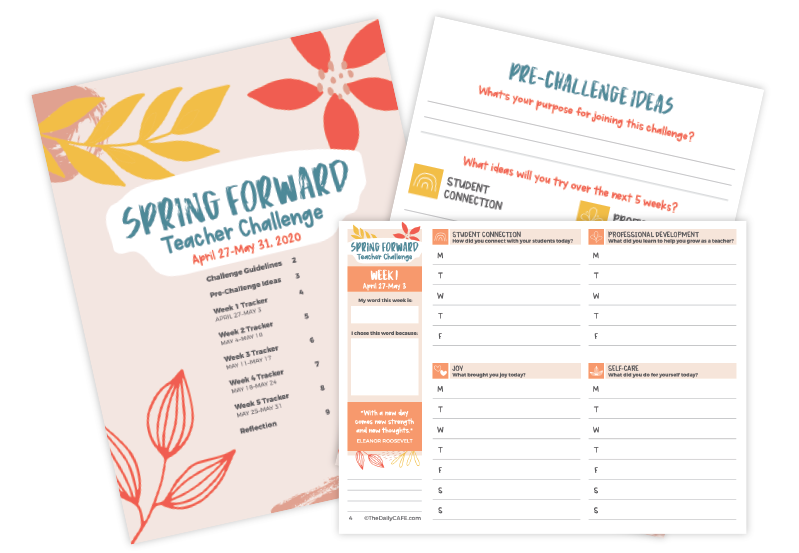 Ideas for Each Category
Check back throughout the challenge for new ideas being posted every week.

Send each student a hand-written note with a self-addressed envelope and paper to write one back to you.
Start a class flipgrid. (Check out our example here.)
Host a zoom scavenger hunt.
Host storytime. 
Call a few students each day on the telephone.
Play Guess Who with a student via Zoom.
Coordinate a drive by teacher parade.
...check back next week for more ideas

Start that book you've been meaning to read.
Participate/create a book study group for a pd book.
Read an article on fluency instruction.
Find a podcast that you find interesting and inspiring. 
Keep a journal of inspiring quotes from the books that you are reading.
Search Good Reads and make a list of books to read.
See Page Turners, our series that provides titles from our book stacks that you may want to add to your own. 
...check back next week for more ideas

Extra time to spend at home with your family
Job security
Music
Favorite beverage—coffee, tea, soda, water
Moments of quiet
Restful nights sleep
Good smelling candles
...check back every week for more ideas

Take a longer shower than normal.
Participate in a virtual happy hour with friends and family.
Find a new favorite tv show and take the time to watch it. 
Write a positive affirmation on your mirror. 
Search for new music by your favorite artists.
Go for a drive.
Listen to a podcast.
...check back every week for more ideas