The Sandwich Swap by Her Majesty Queen Rania Al Abdullah with Kelly DiPucchio
---
Join Our Community
Access this resource now. Get up to three resources every month for free.
Choose from thousands of articles, lessons, guides, videos, and printables.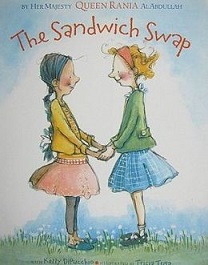 By Andrea Butler
In the book The Sandwich Swap, Salma likes hummus and pita sandwiches.  Lily likes peanut butter and jelly sandwiches.  One day Lily insults Salma's sandwich.  Lines are drawn, sides are chosen, and a food fight erupts. How will Salma and Lily restore their multicultural friendship? 
Possible strategy instruction:
C: Use prior knowledge to connect with text.
C: Make and adjust predictions; use text to confirm.
C: Check for understanding.
A: Blend sounds; stretch and reread.
A: Chunk letters and sounds together.
F: Read the text as the author would say it, conveying the meaning or feeling.
F: Use punctuation to enhance phrasing and prosody (end marks, commas).
E: Tune in to interesting words and use new vocabulary in speaking and writing.
E: Use word parts to determine the meaning of words.