New Option for Launching Read to Someone
---
Join Our Community
Access this resource now. Get up to three resources every month for free.
Choose from thousands of articles, lessons, guides, videos, and printables.
We used to think we had to teach all the behaviors of Read to Someone to launch it successfully. There are a lot of them: how to Choose a partner, Sit EEKK, Check for understanding, offer support with Coaching or time, Decide what books to read, Decide who reads first, and Determine where to sit together. 
Kim Patrick's third-grade class had already launched Read to Self and Work on Writing, so they knew the must-have behaviors for those and had 20–30 minutes of stamina built up for each round. They were ready for Read to Someone, but we had not taught any of the behaviors we believed essential for a smooth launch. We decided to try something new, and by the end of the next 45 minutes, her class was Reading to Someone and practicing all of the behaviors. Here is what we did: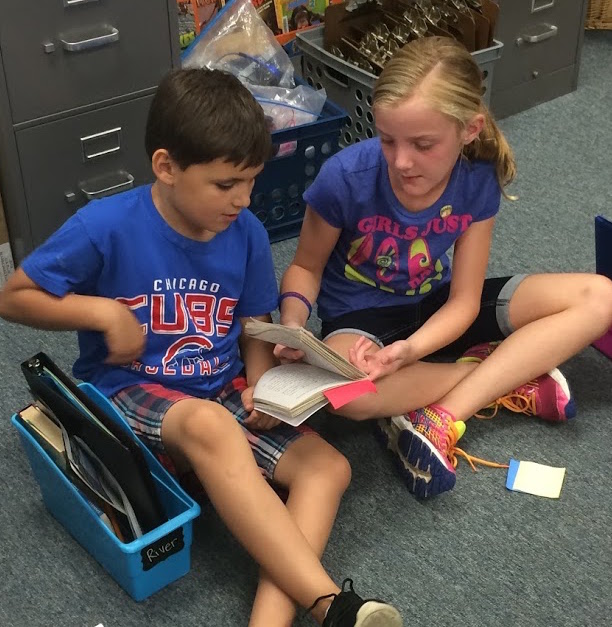 Launching Read to Someone this way was really successful with this group of students. Would it be in another class? I think so, and here is what contributed to the success. The children had already built stamina for other Daily 5 tasks, they had knowledge of other Daily 5 behaviors, they were highly motivated to learn to Read to Someone, the lessons were short, there were fewer transitions back to the carpet, and students were able to practice right where they were with their partners.
Whether you launch Read to Someone by front-loading the necessary behaviors or by teaching them all in one period like we did, we are sure it will become a favorite Daily 5 of many of your students, helping them build fluency, expression, comprehension, and friendships.