Materials for Small Groups
---
Join Our Community
Access this resource now. Get up to three resources every month for free.
Choose from thousands of articles, lessons, guides, videos, and printables.
The materials we use for small group lessons (now defined as 2-3 students) vary depending on the focus of instruction.  No longer do we worry about having the same book for everyone.  We'll never forget watching Margaret Mooney teach a small-group reading lesson using a brochure she found in her hotel room. I can still see the picture of a sea lion, black eyes staring, begging children to read about and visit the Seattle Aquarium. Margaret firmly believed that we do not have to do things the way we always have just because its the way we've always done it. We took that belief to heart as we endeavored to change the way we did small-group instruction. No longer do our students need to have copies of the same book; we aren't teaching a book. Instead, we use materials that are available and interesting to students, and teach skills and strategies that will enable them to successfully navigate their own self-selected material.
Margaret modeled how differently she thinks about instruction, materials, and the worthiness of the children in our care. Once our minds were expanded to what could be, the possibilities for materials and ways to teach became exciting and endless.
Here are a few of the different resources we use for teaching small groups. Note that in each group, students are reading their own good-fit books.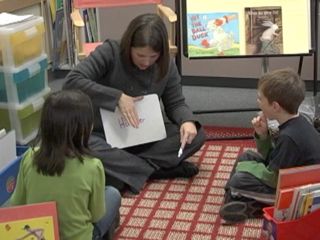 Courtney uses a whiteboard to teach chunking. A whiteboard and a pen make up one of our go-to resources for working with students.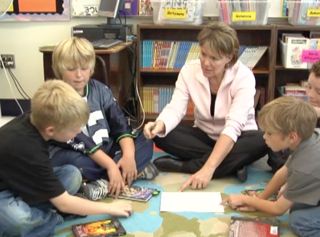 The CAFE Menu is the anchor for this lesson. The boys in this group are reading books by the same author, but different books in the series.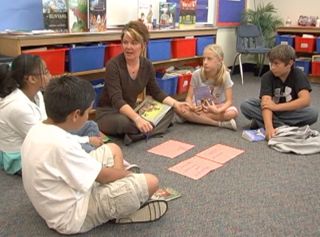 Joan anchors this lesson in the class read-aloud. All students are part of the reading and learning that takes place during the read-aloud. It becomes a perfect shared resource for group work. She also uses pieces of construction paper to document learning and to make their thinking visual.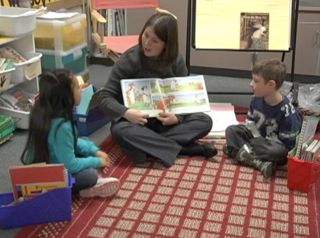 A picture book that was read to the whole class becomes a useful tool for reinforcing strategy work. In this case it happens to be a retell.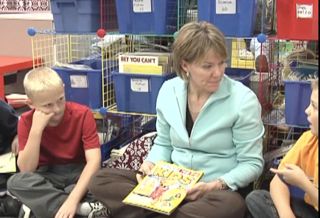 A student magazine is the perfect tool with which to model text features. These students each got a different magazine to practice their reading and understanding of text features.
Margaret Mooney's teaching, writing, and publishing career began in New Zealand.  She has been an elementary teacher, principal, professor, and administrator.  She has worked for the New Zealand Department of Education, and has promoted literacy instruction in the United States.  Margaret wrote 
Books for Young Learners Teacher Resource
Text Forms and Features: A Resource for Intentional Teaching
Reading to, with, and by Children
 and
Developing Life-Long Readers (Ready to Read)
.
In 1998, Queen Elizabeth II appointed Margaret as an Officer of the New Zealand Order of Merit for her service to education, particularly the teaching of reading. We are grateful and thankful for the years we have called Margaret our teacher.