Living Within Design Restrictions
---
Join Our Community
Access this resource now. Get up to three resources every month for free.
Choose from thousands of articles, lessons, guides, videos, and printables.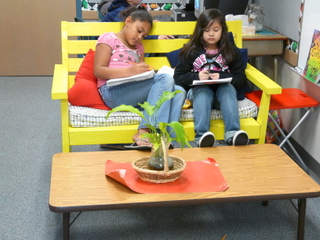 One aspect of classroom design includes comfort for learning. We all define comfort in different ways. Some like lounging on a comfy pillow, while others prefer a straight backed chair. If children are comfortable, they can build and maintain their reading and writing stamina far beyond what we saw when they were sitting at desks in tidy rows.
Much as we'd love to have couches and pillows and bean bag chairs, our district places restrictions on such comforts. Cindy has a great, rule-following solution. She brought in a wooden park bench, added a cushion and pillows that can be removed for washing, and voila, a cozy reading spot was born. Cindy also lowered a table which these two girls use to support their feet. Without the bench their feet would be dangling which can become uncomfortable.
We love Cindy's creativity! If you've got restrictions about what you can bring into your room, consider it a challenge worth rising to. It will end up being what is best for kids!