Joan Moser
June 19, 2009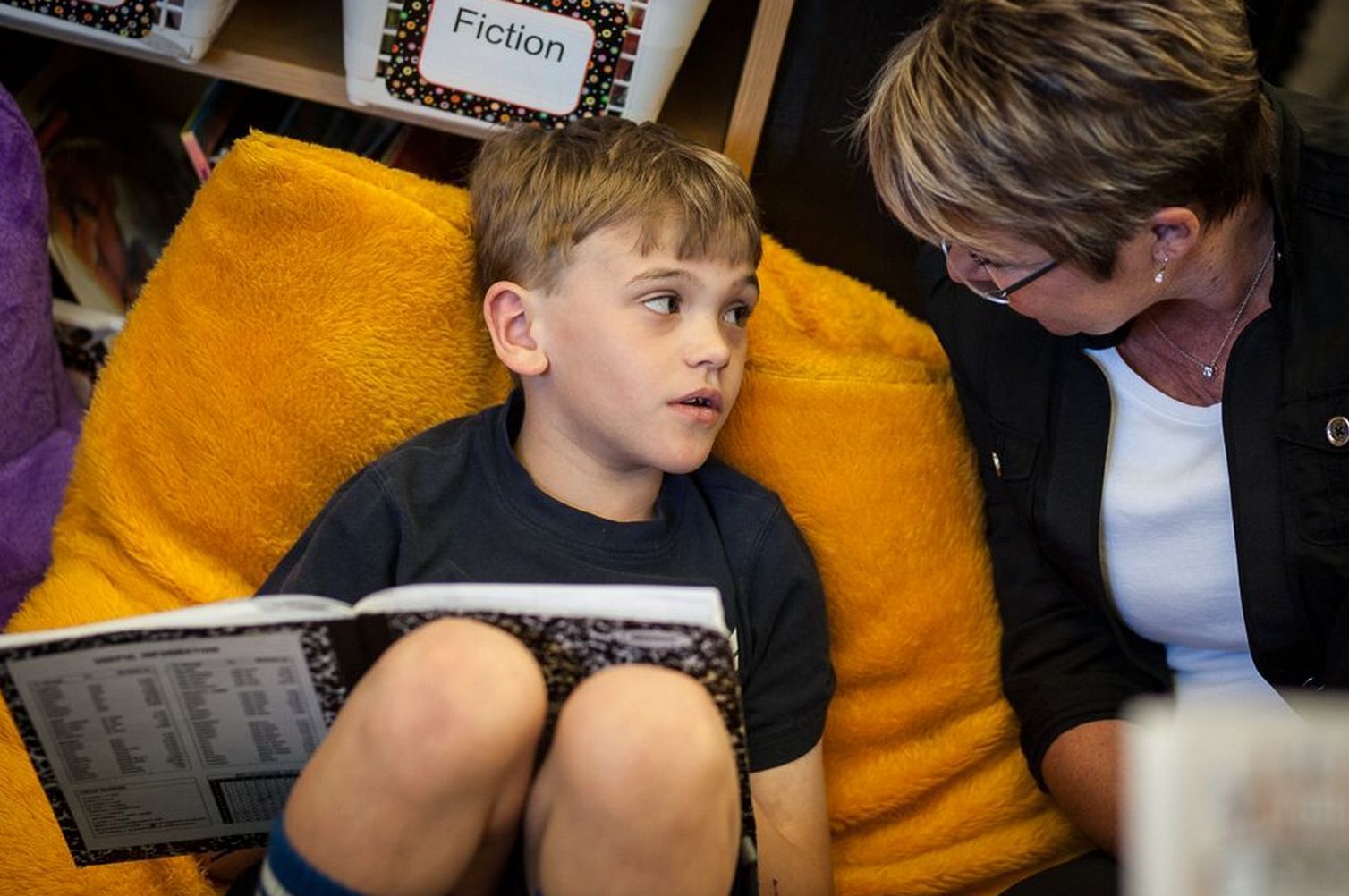 I had the joy of having some former students pop in last week to say hi. Both of these boys were darling little rascals in my class when they were young and the memory of patience they both required was not dimmed by the passing of years. It was quite an interesting to listen to them reminisce about their time in my classroom and their perspectives.
The conversation began as many with past students do -- "I remember putting on puppet shows." "Don't you remember the great voices you used when you read James and the Giant Peach?" "I really loved it when you used to bring your dog into school so we could read with him." I am sure you can imagine my surprise when the younger of the two boys blurted out, "I loved being your favorite student." What was even more surprising was the reaction of the older boy, "You couldn't have been her favorite, I was her favorite!"
I was flabbergasted by these comments from high school boys, in particular when- truth be told, I would never consider either of these two boys as "favorites" when they were in my class. Darling, yes. Challenging, definitely. Demanding, absolutely. Difficult, you betcha -- but favorites? Not so much.
I was so fascinated by their shared perspective of my feelings about them; I just couldn't resist asking the boys what made each think they were my favorite. As the conversation progressed, it became clear the things which meant so much to them were not fancy, tricky, or anything different than what many teachers do. I jotted some notes so I might be purposeful about replicating the practices with children each year.
Their recollections and proofs about why they were each my favorite fell into three distinct categories: Rituals, Voice, and Words.
Each of the boys remembered the ritual of my meeting them each and every day at the door when they arrived at school. I can't say I appreciated their impersonations of me, but I couldn't deny that I could hear myself in their words, "Good morning, I sure did miss you last night! Did you think about what you will write during writer's workshop today?" as well as, "Oh boy, I couldn't wait to get to school today to see you; we are going to have a terrific day!" They also talked about the end of the day ritual, once again complete with impersonations, "I'm going to miss you tonight. Be on the lookout for a great snippet to write about tomorrow." "What a wonderful day we had together, can't wait to do it again tomorrow." Of course, neither of the boys seemed to remember me borrowing the line from Lilly's Purple Plastic Purse by Kevin Henkes, "Today was difficult, tomorrow will be better!"
I got a real giggle as the young men talked about how they loved, and at times hated, my sweet tone of voice. Each clearly recalled my saying to them, "Oh my, please don't talk to me with that tone of voice, I will never talk to you that way." They hated that they couldn't refute that! I believe that we only get back what we are willing to do ourselves. This one was great for both of the boys.
Lastly, it was astonishing to have them each remember with such clarity my saying, "I love that about you!" when they would do something wonderful, funny, poignant, or kind. They also could recall struggling with everything from a difficult math problem to wall-ball at recess and my steady response, "I believe you can."
When I shared this with a friend, we laughed together, but then she said, "What a gift. You got to see a glimpse of your legacy. We don't get that very often."
She's right. How about you? As you look back on your school year, what rituals made your students believe with all their hearts that they were your favorite? What rituals, words or tone do you want to adopt next year, so the message might ring even louder and more true?
Professional Development
Opportunities to learn more abound! Whether you want to collaborate with us in-person or prefer pd in your pjs, we have the instruction for you.

Online Workshops Online Seminars Graduate Courses