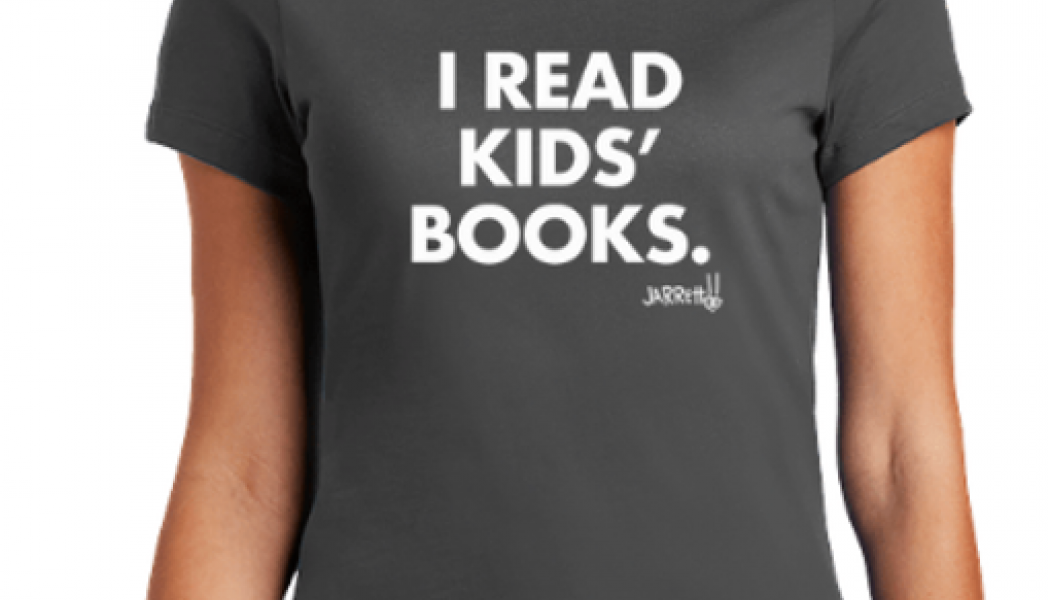 Lori Sabo
This shirt arrived yesterday, and if I could, I would wear it every day. If you love it too, you can get your own or one of Jarrett Lerner's other designs here.
Our last day of school is June 20, but I know many of you are already out, so I am giving you all a virtual hug. This was a year unlike any other, wasn't it? So, let's "cheers" with our iced lattes and cozy up with a summer stack that is just for fun.
This "just for fun" reading serves two important purposes:
First, we get to escape. We get to leave mask protocols and hand sanitizer behind, immersing ourselves in worlds and adventures that have nothing to do with frightening viruses and senseless violence. We get to laugh, cry, and know characters so well that it is hard to believe they don't exist off the page.
Second, when we get back to school, we will have new titles to recommend as we get to know new students, ushering them into the marvelous world of books.
May I recommend a few? Get them from the library first, if you can. But I suspect a few will be worth purchasing for your own classroom library.
A Duet for Home by Karina Yan Glaser is a moving middle-grade novel told from the perspectives of two sixth graders living in a homeless shelter in the Bronx. Themes of grief, friendship, and family resonate throughout the beautifully woven, empathy-inducing story.
Ham Helsing #1: Vampire Hunter by Rich Moyer is a clever, amusing graphic novel with a few subtle lessons mixed in. Ham Helsing comes from a long line of unsuccessful vampire hunters. We see their hilarious demises in the first few pages, setting us up for the quirky adventure to come.
Orbiting Jupiter by Gary D. Schmidt. This YA novel is both beautiful and devastating. Jack's new foster brother, Joseph, comes with a lot of baggage. We watch him thaw as Jack's sweet family treats him the way all children deserve, but he has a past that isn't easily shaken off. Real-life issues of violence, abuse, and teen pregnancy are presented with honesty and tenderness.
Scary Stories for Young Foxes by Christian McKay Heidicker is deliciously creepy. Scary stories aren't usually my thing, but I loved this book. It is unique, menacing, and touching. I think you will love it, and someone in your middle-grade classroom will, too.
The Beatryce Prophecy by Kate DiCamillo. In my fantasy life, Kate and I are neighbors and friends, and we sip lattes in the backyard and share our works in progress with each other. Sigh. This middle-grade novel is fantasy at its best. Beautiful story + beautiful writing = the kind of beautiful book that will make you clutch it your chest and sigh contentedly upon reading the last page.
What about picture books? For the sake of time, let me list a few titles without description. I am limiting myself to 10—and those of you who know me know that takes remarkable restraint.
Apple and Magnolia by Laura Gehl, illustrated by Patricia Metola
Born Hungry: Julia Child Becomes "the French Chef" by Alex Prud'homme, illustrated by Sarah Green
Bartali's Bicycle: The True Story of Gino Bartali, Italy's Secret Hero by Megan Hoyt, illustrated by Iacopo Bruno
Home in the Woods by Eliza Wheeler
Love in the Library by Maggie Tokuda-Hall, illustrated by Yas Imamura
Aaron Slater, Illustrator by Andrea Beaty, illustrated by David Roberts
Nina: A Story of Nina Simone by Traci N. Todd, illustrated by Christian Robinson
This Very Tree: A Story of 9/11, Resilience, and Regrowth by Sean Rubin
Have You Seen Gordon? by Adam Jay Epstein, illustrated by Ruth Chan
A Walk in the Words by Hudson Talbott
Are you inspired to dive in? I hope so. Reading for pleasure not only feeds our minds, refreshes our souls, and restores our hearts, but brings an authenticity to our work with students so they catch the joy as well.
Happy summer. You deserve it.
**This post contains affiliate links. If you use these links to buy something we may earn a small commission.
News From The Daily CAFE
Professional Development
Opportunities to learn more abound! Whether you want to collaborate with us in-person or prefer pd in your pjs, we have the instruction for you.

Online Workshops Online Seminars Graduate Courses