Flight School by Lita Judge
---
Join Our Community
Access this resource now. Get up to three resources every month for free.
Choose from thousands of articles, lessons, guides, videos, and printables.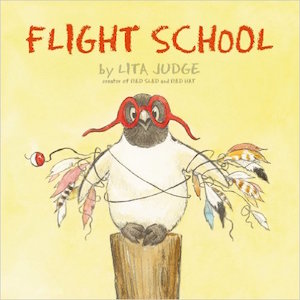 In Flight School, a bird with the soul of an eagle but the body of a penguin wants to soar. How can this possibly have a happy ending? You'll see. 
Possible strategy instruction:
C: Make and adjust predictions; use text to confirm.
C: Infer and support with evidence. 
C: Recognize literary elements (genre, plot, character, setting problem/resolution, theme).
A: Cross Checking. Do the pictures and/or words look right? Do they sound right? Do they make sense?
A: Use the pictures. Do the words and pictures match?
F: Adjust and apply different reading rates to match text.
F: Use punctuation to enhance phrasing and prosody (end marks, commas, etc.)
E: Tune in to interesting words and use new words in speaking and writing (undeniable, brokenhearted, technical).