Join Our Community
Access this resource now. Get up to three resources every month for free.
Choose from thousands of articles, lessons, guides, videos, and printables.
Have you heard the old adage about having a certain number of seconds to make a first impression? I looked it up: it's anywhere from 7 to 60 seconds. First impressions are important because they're difficult to change and they set the tone for further interaction. I've been thinking about this in relation to my classroom. What impression does it give? Is it inviting? Welcoming? Functional? Comfortable? Is this a place where students want to spend a lot of time? What kind of impression does it make in those first few seconds that a parent sees it?

I've spent a lot of time and energy working to make my classroom convey all the qualities I mentioned above. I feel pretty good about what I've accomplished. Every year, I add or change a little something to improve the overall comfort, functionality, and "look" of our classroom. Sometimes the students make a suggestion or add something to our décor.
As I walked around the building, though, I realized something was missing. The place I'd really make my first impression—my door—was bare! There was nothing welcoming about my door, except that it was open. I got to thinking about how I could use my door to make a great first impression.
After telling my friend Kate that I wanted to make my door more welcoming by adding a tree, she offered to help. I jumped at the chance, since she is a talented artist. We brainstormed a bit and came up with what you see below: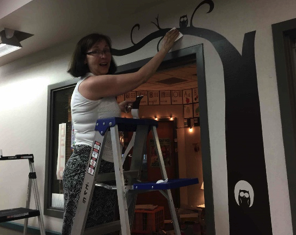 Kate and I had a wonderful time making my door much more welcoming. I chose the tree mostly because of the color scheme in my room and the configuration of my door. I wanted the colors to flow from my door into my classroom so it felt connected. We also had to work around the strange configuration of my door. All in all, I'm happy with the outcome! Look at the before and after pictures and I think you'll agree.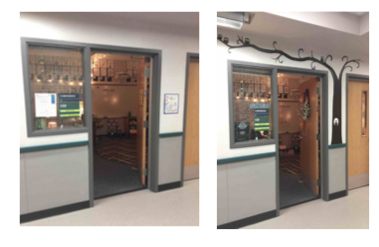 Have you considered your door as a way to make a first impression? This is not a new idea. Lots of teachers have been covering their doors or decorating them. Some teachers even create themed entries for each unit. I plan to leave this up year-round. I may add a few fall or spring leaves, depending on the season, but for the most part, it's going to stay the same. The big idea is that it creates an invitation to come in and see what's happening in our classroom.
Good luck with your first impressions this year!