Exercise Balls as Alternative Seating
---
Join Our Community
Access this resource now. Get up to three resources every month for free.
Choose from thousands of articles, lessons, guides, videos, and printables.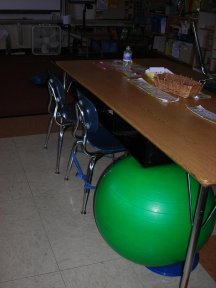 Brenda Bokenyi of Portland, Oregan wrote in to say
"I have a student this year with severe sensory and anxiety issues. As recommended by her OT, this girl's mother brought in several exercise balls for use as chairs in the classroom.

I was leery at first, but they have worked wonderfully for so many active students! I thought they would take up more room, but they fit under my standard height tables. A Frisbee placed underneath keeps them from rolling around. After brief modeling, students understood they are alternative seating, not toys. They learned how to handle them, share them, and put them up on the tables at the end of the day.

I think the exercise balls should be known to others as a way to allow for movement for many children."
Thanks Brenda! Your experience reminded us of a school in Gail's district that replaced all the chairs in the computer lab with these exercise balls. They were funded by the PTSA and besides being a great way to legally wiggle, corrected student posture when keyboarding!
If you want to incorporate this great idea into your room, you'll want to make sure you purchase the right size. Knee and hips should be at 90 degree angles. If they aren't, then the ball is too large or too small.
*A frisbee under the ball to keep it from rolling around when not in use.