Emergent CAFE Menu Aligned to Common Core
---
Join Our Community
Access this resource now. Get up to three resources every month for free.
Choose from thousands of articles, lessons, guides, videos, and printables.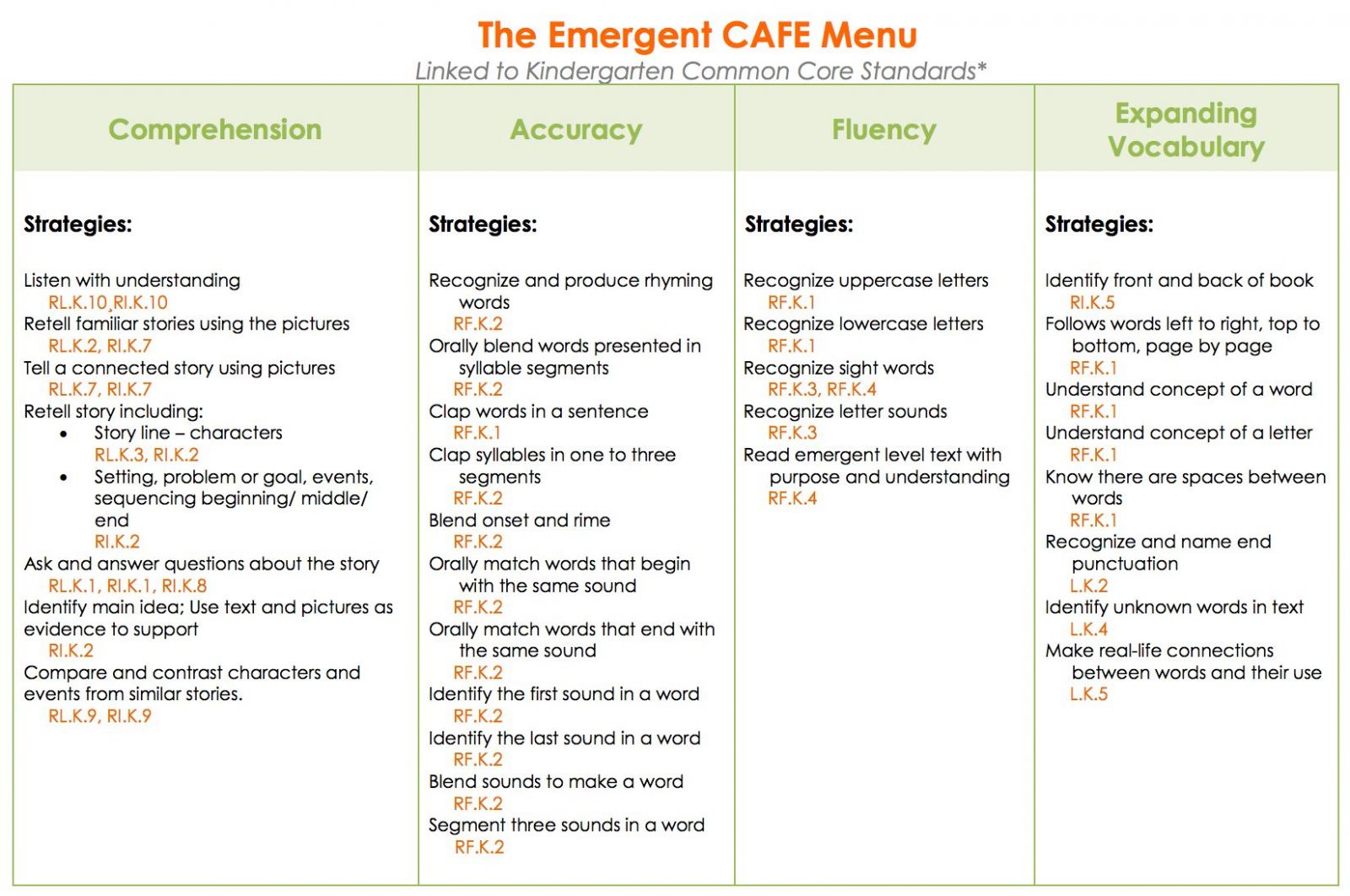 When we first developed CAFE, we created a menu of strategies that proficient readers use to read and comprehend text. Although these strategies are good for all readers, they weren't quite meeting all the needs of our emergent readers. It is hard for children to develop their reading strategies if they are still learning their letters, sounds, and concepts of print. Taking this into consideration we created the Emergent CAFE Menu, realizing that when students are ready, teachers will transfer them to the CAFE Menu.
Both menus align with the Common Core State Standards (CCSS). However, aligning the Emergent CAFE Menu with the standards brought to our attention its need for an update. Previously, teachers of emergent readers who wanted to meet the requirements of the CCSS needed to access both menus. The updated Emergent CAFE Menu allows teachers to meet students' needs using only one menu.
As you look at the updated Emergent CAFE Menu, you will notice many of the same strategies from the previous menu, along with some new ones that will help your higher emergent readers. The changes to the menu came from a careful look at the Common Core Kindergarten Standards and the strategies our emergent readers truly need to help them move forward. We think you will find the updated Emergent CAFE Menu to be a better fit for your beginning readers.
Please remember, neither menu (the Emergent Menu or the CAFE Menu) is all inclusive of the CCSS. The purpose of both menus is to provide a "menu of strategies" for students to access to improve as readers. The CCSS, on the other hand, provides a list of concepts and skills for which teachers are responsible. Therefore, even though the menu has been aligned with the CCSS, it is not all encompassing and teachers must still visit the CCSS to ensure they are teaching everything required to produce successful students.