Core Proposition 3: Teachers Are Responsible for Managing and Monitoring Student Learning
---
Join Our Community
Access this resource now. Get up to three resources every month for free.
Choose from thousands of articles, lessons, guides, videos, and printables.
Daily 5 Connection: Managing and Monitoring Learning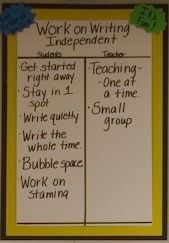 In a Daily 5 classroom, the teacher provides sufficient time for students to develop stamina and work through the "10 Steps to Independence." To motivate students toward greater stamina, the teacher often charts students' reading minutes (and sometimes even seconds) so that they have a visual of their progress (see page 159 of the second edition of The Daily 5). By creating I-charts with students, the teacher calls attention to his or her own role in each rotation of Daily 5 and reminds them of their roles as well.
After training students in Daily 5, teachers have the freedom to practice their craft, unencumbered by distractions from students who are unsure how to manage their time. Between rounds of Daily 5, the teacher uses Brief Focus Lessons based on the CAFE Menu strategies to anchor instruction. Understanding the relationship between good-fit books and student engagement, the teacher monitors student reading and ensures that students have access to texts they can both comprehend and enjoy.
Daily 5 Connection: Well-Managed, Goal-Oriented Learning Environment
Effective practitioners of Daily 5 create a disciplined learning environment that has respect for each learner at its crux. They recognize that the structure of the Daily 5 offers a comforting sense of routine, which is extremely critical for students who do not enjoy the same reassuring consistency outside of school. Daily 5 users provide sufficient time for students to develop stamina and work through the 10 Steps to Independence. Understanding the relationship between correctly matched books and high student interest, teachers monitor children's reading and ensure that learners have high-quality texts from different genres. Familiar with the research base of Daily 5, users understand the correlation between students' chronological ages and their attention spans as explored in the work of Ken Wesson (Boushey & Moser, 2014). Through purposeful instruction and well-established management, teachers help students progress toward their goals.
Daily 5 Connection: Student Assessment and Communication
Assessment plays an important role in Daily 5. The teacher observes students' ability to increase stamina, choose books correctly, select successful reading spots, and demonstrate the behaviors of each of the Daily 5 choices. These observations create a full picture of each child's emerging independence and ability to take responsibility for learning. As students read, write, and interact with words, teachers make frequent observations of student engagement and on-task behaviors during independent work time. They quickly note which students are deeply immersed in their work and which have difficulty maintaining stamina and independence. In addition, at the end of each training session, teachers invite children to reflect on how well they did. With a simple thumbs-up to show good progress, or a sideways thumb to indicate the need for improvement, students rate their own performance. Students can also hold up one, two, three, or four fingers (corresponding to below to exceeding) to indicate how well they met the standards (Boushey & Moser, 2014).
Many teachers use the CAFE system within the structure of the Daily 5 to assess learners: instruct students on a whole-class, small-group, and one-on-one basis, and monitor student progress (Boushey & Moser, 2009). Frequent conferring keeps the teacher apprised of each reader's progress. The independence and stamina that results from Daily 5 training helps each learner achieve self-selected goals from the CAFE Menu.
To gather evidence of student learning, teachers have students occasionally respond to texts they have enjoyed during Read to Self, Read to Someone, or Listen to Reading. Learners can also keep track of their writing and word work in a notebook. When communicating with parents, teachers use conferring records from their online or print version of the Pensieve (developed for use with CAFE) to talk about students' goals, strengths, and areas for growth (Boushey & Moser, 2009).
During the first open house of the school year, many teachers share the expectations of Daily 5 (see p. 168 for an example letter). They frequently explain how they will help children do the work required, such as choosing a spot for working, getting started right away, building stamina, reading the whole time, and staying in one place. This introduction to Daily 5 affords a common language and set of expectations for parents and teachers, and makes it easier for them to discuss a given student's progress. Often teachers describe the benefits of Daily 5 with such enthusiasm that parents decide to work with their children to complete another round at home ("Sharing Behaviors of Independence with Parents"). Once parents become familiar with the tenets of Daily 5, most are delighted to learn about their child's growth and accomplishments.