Communicating Behavior Expectations Year-Round
---
Join Our Community
Access this resource now. Get up to three resources every month for free.
Choose from thousands of articles, lessons, guides, videos, and printables.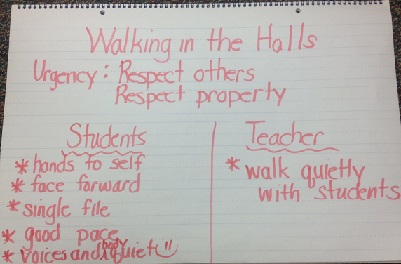 We have many behavior expectations for students during the school day—how to enter the classroom, prepare for the day, line up at the door, walk in the halls, share with a partner, get ready for dismissal, and more. Since undesired behaviors can lead to a loss of valuable learning time, it is important we communicate expectations, model behaviors, and practice with students.
If you are looking to introduce or revisit expectations, here are some ideas using the 10 Steps to Teaching and Learning Independence:
Walking in the halls
Purpose: To show respect to people and property as we go through our building.
Success indicator: Walking from place A to place B while demonstrating I-chart behavior expectations. 
Sharing with a partner
Purpose: To allow everyone a chance to share their thinking and their work.
Success indicator: Students will share and listen, following I-chart expectations.
Enter the classroom
Purpose: To create a calm and timely transition so learning can continue or begin.
Success indicator: One or more students enter the classroom following I-chart expectations. 
Line up at the door
Purpose: To make the most of our time together.
Success indicator: Students line up according to I-chart expectations. 
Communicating expectations this way works well because it taps into the senses and trains muscle memory. When desired behaviors are framed positively, clearly communicated and modeled, and then students have the opportunity to practice, they are able to see what it looks like, sounds like, and feels like. It leaves no room for guessing and allows children to truly be successful.