Classroom Library Makeover—Seven Steps
---
Join Our Community
Access this resource now. Get up to three resources every month for free.
Choose from thousands of articles, lessons, guides, videos, and printables.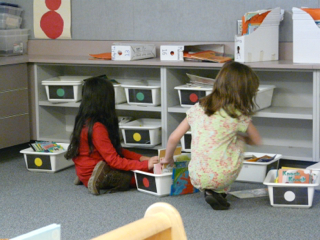 Here is the process Lori Sabo taught us to organize our classroom library so students can independently find their own books and put them back where they belong. 
1. Sort the entire library into like piles by series, topics, and favorite authors.
2. As you sort, weed the titles. Books that are out of date, unappealing, damaged, and so on must go. Donate them or give them away.
3. If you'd like a record of the tubs being created, type the name of the pile of books into a printable document (Kevin Henkes, Motorcycles, Harry Potter, Spiders, Frogs, Friends, Dogs, and so on).
4. Place the piles into tubs and baskets. Place the newly organized tubs around the classroom library, selecting a spot based on popularity and necessary ease of access.
5. Assign each tub a number and record it next to the corresponding tub title. Mark the tub with a sticky note until a label can be made. (We later print a copy of this list and post it in the room as a way for students to reference where a topic of choice may be located. This is especially helpful in a large classroom library.)
6. Make, or have students make, a label for each tub that includes the tub title and its number.
7. Using a small sticker or permanent pen, record the tub number on the back of each book in the tub. Labeling each book with the corresponding tub number makes it very easy for students to maintain the order of the library. Even if they can't read the title of the tub, they can certainly match the number 10 to tub 10.
Want to see these steps in action? The links to the videos of these steps are to the right under "Related Articles."