Classroom Design—What to Look for This Summer
---
Join Our Community
Access this resource now. Get up to three resources every month for free.
Choose from thousands of articles, lessons, guides, videos, and printables.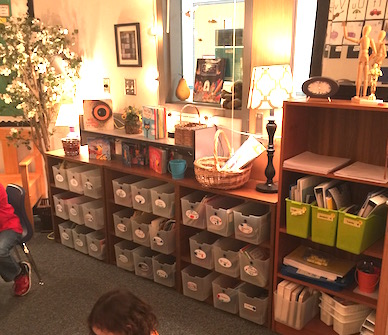 Are you changing jobs next fall or moving to a new room? Maybe you just want to make your existing classroom more inviting. Now is the time to start thinking about the changes you want to make and what you might need, because it's garage-sale season!
1. Lamps. If you're looking to soften the feel of your room and make it more peaceful, add lamps. I have found that the best place to get them is at garage sales. I have also bought them at Home Goods, Big Lots, Ikea, and Goodwill, but I always find fun, good-quality lamps at garage sales. Don't worry about them matching; just get a variety of sizes and heights. Go for solid-colored shades versus busy ones.
Look around the space you have and think about where you might add a few lamps. If you have a lot of natural light in your classroom, five may be enough. I have a very small classroom with no windows to the outside. I just counted and discovered I have 10 lamps and two strings of party lights. I have added them over the years as we've redecorated our home or I've found something I can't live without at yet another garage sale.
2. Rugs. The next thing to consider is a large rug for your meeting area. These can get very expensive, so if you don't have an unlimited budget, definitely bargain hunt. I ended up with an indoor/outdoor rug that I got on clearance at the end of the summer. Think about the shape you want. I chose a round rug because my room is long and narrow. Square, oval, rectangular—what will work best in your space? Also consider how thick the rug is. A thin rug may move around and roll up too much. In addition, this is a large block of color, so make sure the color is appealing to you and not too harsh (bright red, for example) or too light (the stains show quickly).
3. Extra touches. Once you've got your rug, think about the color scheme you want to go with. You don't have to make everything match, but you want to think about how the colors will go together. Again, I might choose one primary color, but not all primary colors. You can choose up to three main colors and add art, silk flowers or plants, throw pillows, and so on to help balance things out and blend the colors together. Color has been proven to stimulate specific responses in people, so be mindful of what you're choosing.
4. Signature piece. Finally, you may want to consider adding a signature piece of furniture or décor. Mine happens to be a wooden bench that I had in my home at one time. I have a colleague who has a bathtub in her classroom! The kids love to lie in it to read. If you are an artist, you may want to paint a wall or add a large piece of art that students help create. You'll know your signature piece when you find it, and it will help make your room unique and welcoming. Having an inviting classroom is important. It welcomes kids and lets them know you want them to feel safe and comfortable during their time at school. You probably spend as much time in your classroom as you do in your home—or more. Do your best to make it the oasis you and your students deserve.