Classroom Design—A Touch of Home
---
Join Our Community
Access this resource now. Get up to three resources every month for free.
Choose from thousands of articles, lessons, guides, videos, and printables.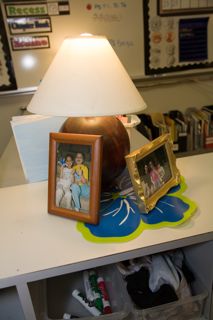 When people walk by your classroom and peek in, what would they assume about you? Would they think you are tidy, creative, orderly, traditional, warm, and/or welcoming? How we set up our rooms makes a strong first impression about what we believe as a teacher, how we teach, and how we feel about the students we teach. If you want to add a touch of warmth and respect to your classroom, you might want to try this simple and effective idea.
Send a note home the first few weeks of school asking each parent to send in a small framed picture of their family/child that will stay at school for the year. During the first weeks of school, each child uses it to introduce their family and finds a place in the room to display the picture. We usually purchase a few small frames at garage sales, dollar stores or craft stores to have on hand for students that don't participate. We take their picture and have them introduce themselves and put the frame out. Photos from home provide a sense of community and ownership in the classroom, and announce to all who enter that individuals are valued here.