Lori Sabo
It's time for a much-needed and much-deserved winter break. Before you leave, you might want to jot down lesson plans for the week you return, so you can avoid what we term "Sunday Night Blues." You know—the feeling you get when you haven't thought about school for a day or two and realize you need to go in early to prepare lessons because you didn't have enough energy to do it before you left on Friday. We suggest you write Review Daily 5 I-charts in your literacy block.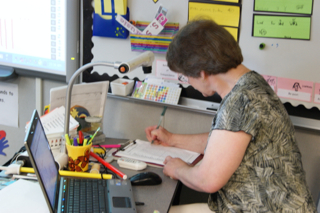 We have found that the first few days after a long break can be like starting over. Stamina is shorter, behaviors are a little bumpy, and bodies that ate on demand over the break are whining, "When is luuuuuuuunch?" What happened to the behaviors we worked so hard on all fall?
Since we know students don't typically return with the same stamina they left with, it's a perfect time to review behavior expectations using the I-charts. This also benefits the new students who join us that first week back. Reviewing and refining I-chart behaviors creates a smooth transition from sleeping in, playing video games, and watching cartoons to the demanding thinking we're required to do on a daily basis.
Professional Development
Opportunities to learn more abound! Whether you want to collaborate with us in-person or prefer pd in your pjs, we have the instruction for you.

Online Workshops Online Seminars Graduate Courses