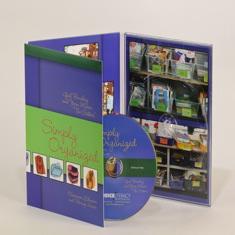 Simply Organized
Teachers are always on the hunt for new ideas to help organize their classroom libraries and storage areas. In Simply Organized, Gail Boushey and Joan Moser take you into the classrooms of Carrie, a second-year teacher, and Kelly, a veteran educator, to reorganize their libraries and storage areas. This hour-long video includes tips on:
Cataloging books in ways that promote student independence;
Flagging books from outside resources like whole school bookrooms;
Arranging reading group book sets for easy access;
Sorting through accumulated materials in cramped storage and meeting areas; and
Helping students maintain materials for personal use.
Gail and Joan show, with humor and flair, how "quick change" organizing strategies can yield results that lead to more purposeful and appealing literacy work spaces.