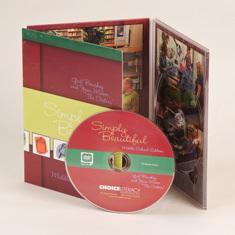 Simply Beautiful: Middle School Edition
In Simply Beautiful: Middle School Edition, Gail Boushey and Joan Moser bring their innovative and fun design ideas to a middle school library and a seventh grade classroom. In the library makeover, tweens and teens work with the librarian and principal to help organize books, move furniture, and put a personal stamp on the environment with their art and reading interests. In the classroom makeover, Gail and Joan help young teacher Erin deal with the challenges of a cramped classroom which has no storage cabinets.
This 45-minute video includes tips on:
Creating "soft spaces" that invite browsing and lingering;
Rethinking wall displays;
Showcasing books in ways that encourage more independent reading;
Sorting through accumulated or inherited materials;
Creating classroom meeting areas for older students;
Storing student and teacher materials in creative ways;
Replacing commercial posters with student art; and
Decluttering student materials and storage areas.
Gail and Joan show, with humor and flair, how "quick change" makeover strategies can be used to create warm library and classroom learning environments in middle schools, using far more elbow grease than money in the transformation process.