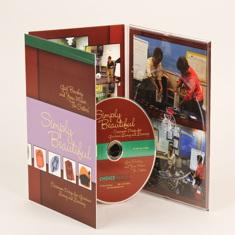 Simply Beautiful
Classroom Design for Gracious Living and Learning
Classrooms don't have to be dank and dreary places—in fact, teachers are discovering that more inviting classrooms create more opportunities for learning. In Simply Beautiful, Gail Boushey and Joan Moser visit the classrooms of five new teachers to help each one deal with specific design challenges that include:
redesigning poor lighting in the meeting area;
displaying student work creatively;
reorganizing materials for easy access;
sorting through accumulated materials in a cramped storage area;
and dressing up plain walls on a budget.
The video includes a fifteen-minute tour of a model classroom at the start, giving viewers a sense of possibility and the research base that supports elegant classroom design. Gail and Joan then move into the classrooms of their young colleagues, and with flair and humor show how simple, "quick change" strategies can yield amazing results. Each makeover takes less than 30 minutes in real-time, with minimal expense. Inspiring and fun, Simply Beautiful will have you itching to roll up your sleeves and start transforming your own classroom in no time.