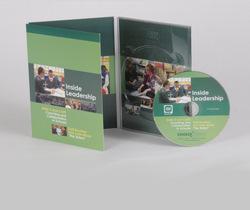 Inside Leadership
Daily 5 and CAFE Coaching and Collaboration in Schools
Change that endures takes time and comes from within schools, as teachers help each other master the art and science of literacy instruction.  Inside Leadership highlights two important components of bringing the Daily 5 and CAFE Assessment to life in schools -- grade-level team meetings and coaching in classrooms.  Gail Boushey and Joan Moser share examples of how teachers and administrators in grade-level team meetings can use CAFE as a bridge between assessment data and instruction.  They also present numerous examples of one-on-one coaching in classrooms designed to help teachers with different interests and needs.
The two-hour DVD features:
Team meetings at different grade levels linking assessment data to teaching plans;
Discussions of conferring strategies and testing;
Collaborative teaching in whole class, small group, and individual conferences;
Examples of recordkeeping forms;  and
Debrief sessions after in-class coaching.
If you are a literacy coach, teacher, or reading specialist who is assisting colleagues as they implement the Daily 5 and CAFE, the Inside Leadership DVD will help you refine and reflect upon your work. Download the workshop guide for the DVD.