Whole-Group Lesson Accountability
---
Join Our Community
Access this resource now. Get up to three resources every month for free.
Choose from thousands of articles, lessons, guides, videos, and printables.
Teachers often ask how we hold students accountable for the strategies taught during whole-group lessons, or how we monitor the use and understanding of these lessons. The simplest way we've found is to focus our one-on-one conferring sessions on two teaching points: the student's personal goal and strategy, and the strategy that is being taught in the whole group.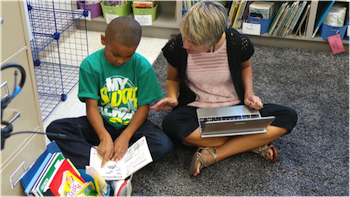 For example, when conferring with Landon on his goal, I said, "Landon, yesterday you were going to use sticky notes to record questions you asked while reading to see how the strategy of questioning could help you understand the story better. Please show me one of those and tell me what you learned."
After Landon shared, I linked his thoughts to the whole-group lesson. "Landon, I noticed that you used this question to check for understanding. We've been talking about Check for Understanding and Monitor and Fix Up in our whole-group lessons. Are there other places in this book where those strategies have helped you comprehend?"
Touching base with students on both strategies gives us the feedback we need to keep the lesson relevant and accelerate student learning.