Using a Read Aloud to Infer and Support with Evidence
---
Join Our Community
Access this resource now. Get up to three resources every month for free.
Choose from thousands of articles, lessons, guides, videos, and printables.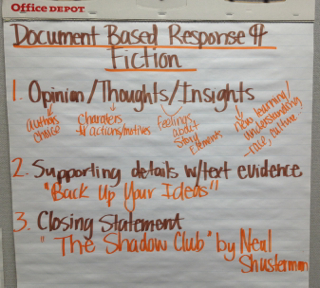 Both the CAFE menu and the Common Core Standards stress the importance of being able to draw inferences, citing evidence from the text to support one's analysis and conclusions.
Chandra Reiners, a sixth-grade teacher in Washington State, uses her classroom read-aloud as a resource to practice this essential skill.
I was in her room when they were reading The Shadow Club by Neal Shusterman. The students had just heard Tyson say "I swear I won't tell a soul if you let me in your gang." Jared replied "It's not a gang."
Chandra posed the question, "Do you agree or disagree with Jared? Be ready to support your opinion with words from the text."
The class was split about 60/40. The schema students brought to the word gang heavily influenced the conversation that followed. Both sides were equally convincing while using details from the book. Some even swayed their peers after sharing.
It was a profoundly simple and powerful lesson. No matter what grade level you teach, keep your eyes and ears open as you read your favorite picture books and novels for phrases that might spark diverse thinking and thoughtful conversation.