Trying New Practices at the End of the Year
---
Join Our Community
Access this resource now. Get up to three resources every month for free.
Choose from thousands of articles, lessons, guides, videos, and printables.
Each time a teacher mentions waiting until fall to try or refine Daily 5, Math Daily 3, or CAFE, we would respond, "Why wait? Start tomorrow!"
Research shows that the human brain is not capable of learning two new activities simultaneously. We often think we are capable of doing two things at once, such as going for a walk while listening to and comprehending a book on tape. Yet if we stop to consider, we realize we are actually doing one thing with automaticity (walking), which frees up our brain to do the new learning (comprehend the book).
So what does this brain research have to do with our advice to educators who feel that it's too close to the end of the school year to launch Daily 5, CAFE, or Math Daily 3, or to make refinements to their teaching? By trying new practices now, with the class you know and have a relationship with, your brain will be able to focus on what's new. The fact that you and your students have automaticity with a myriad of other things (such as where to sit during the lesson, how to operate the document camera, or small things like knowing exactly where to reach for a pen to write on the chart paper) allows for your new ideas to be practiced and learned.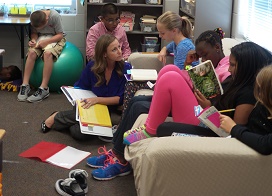 Anytime we are learning something new, trying out a new practice, or changing something in our teaching, it is powerful to experience it and practice it, allowing the new learning to move, or begin to move, to a level of automaticity.
By trying out new things toward the end of the school year, or even in the very last week or so, we are providing ourselves with needed practice time without the other distractions that are present in the beginning of a new school year. Starting now gives our brain an opportunity to more quickly move our practice to a level of automaticity. Therefore, when we start again after a summer break, we will have muscle memory to support us since we have participated in the practice before.
In addition, trying out and learning something new at the end of the year can spark new energy and enthusiasm for school in your classroom! We find that our students love to be part of our new learning, and we believe in the power of modeling making changes, trying new things, and making refinements in front of them.
What are some new components to your teaching practice that you want to try out, refine, or change? Why wait? Start tomorrow!