Join Our Community
Access this resource now. Get up to three resources every month for free.
Choose from thousands of articles, lessons, guides, videos, and printables.
Envision the scene in your classroom as the final round of Daily 5 wraps up for the day. You've spent those precious minutes teaching and reinforcing strategies, conferring with students, instructing small groups, and checking in with children who need support in between. You've worked hard, and so have your students. The room has reverberated with that beautiful, quiet hum of children working. Now it's time to move on to the next subject, right? Not quite! It's time for a share! By setting aside 5 minutes for sharing, you can emphasize the importance of children's hard work and learning. Of course, there is not time for each child to share daily, but you can schedule a few readers each day, doing your best to ensure that each child shares at least once a week. Invite students to share in small groups or with a partner, or select students based on information from conferring. You can leverage that brief sharing time to do the following: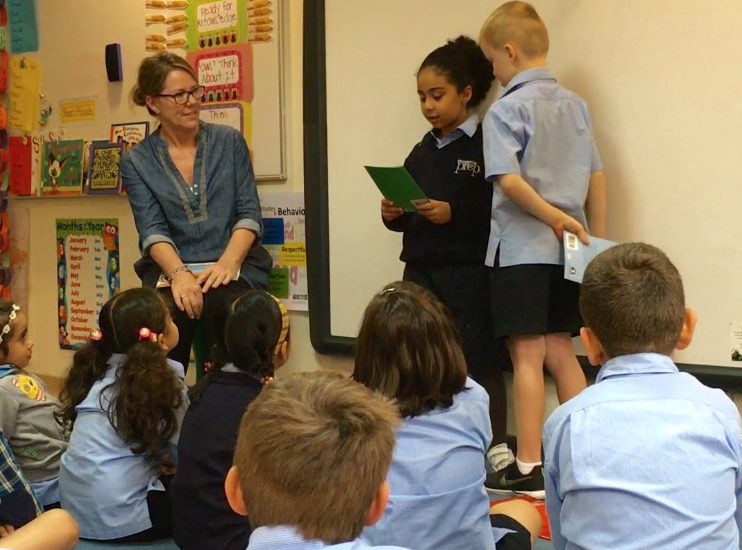 Send a Message: Every day that students engage in Daily 5 is a special day. It's an opportunity for children to relish a new author and/or an engaging text during Read to Self, become enthralled in a dramatic reading during Listen to Reading, express interesting ideas during Work on Writing, discover new vocabulary during Word Work, partner up with a classmate during Read to Someone, or meet with their favorite expert reader—their teacher. You convey a sense of urgency by explaining that there are many wonderful things to learn; by encouraging students to use every minute of Daily 5 to its fullest, you help them make the most of their learning time. Carving out some time each day to share reinforces the urgency of their literacy work during Daily 5. The shout-it-from-a-mountaintop message you send to students is twofold: "Our Daily 5 work is very important, and we want to share the amazing work we have done!"
Help Build Community: When students share, they talk about themselves as readers and writers. They identify their discoveries and accomplishments. Through the special sharing time after Daily 5, you reinforce the idea that every member of the class is on a thrilling journey. As classmates, readers, and writers, they have much in common: the need to select good-fit books, the responsibility for working toward their reading goals, and the sense of urgency that motivates them to do their best work each day.
Accentuate the Positive: So many little things can go awry on any school day. Students can forget their lunch boxes, feel a little left out on the playground, or even misplace a library book. During sharing, the little things that have gone wrong don't matter so much because they have been replaced by the feelings of a job well done. In a sharing session, the emphasis is on the work students have accomplished, things they have learned, and discoveries they have made. Sharing work boosts students' self-esteem, shines a spotlight on their reading journeys, and encourages classmates to explore new books, authors, and strategies in the process.
Reflect on Growth: Once you finish a notable task, do you ever want to tell a friend about it? Chances are that you have experienced that excitement, and you want your students to feel the same way. As you tell about your accomplishment, perhaps you consider how far you've come and where you want to go next. By giving students an avenue for talking about their work, they can reflect on their growth. In your role as teacher and observer, you can marvel at how far they've come, too, and think about how well they are progressing toward their goals.
Encourage Each Other: Think about the exciting news that is exchanged during sharing. Students might talk about a helpful CAFE strategy they applied, name an intriguing word they encountered, or describe a brand new genre they are reading. Whether they share in whole group or in pairs or trios, they appreciate their listeners' interest and feel encouraged. They learn the social skills of exchanging ideas, listening actively, and offering a sincere compliment.
Whoever thought that so much could be accomplished during that brief share? By setting aside those 5 minutes, you can give students the opportunity to savor their successes. Sharing is the perfect way to conclude Daily 5.