Thoughts About Writing Prompts
---
Join Our Community
Access this resource now. Get up to three resources every month for free.
Choose from thousands of articles, lessons, guides, videos, and printables.
Katie Wood Ray talks about the need for children to have fortitude to face a blank sheet of paper and get some writing down. Isn't that the truth for all writers? Supplying a daily prompt may feel like a way to support students, especially reluctant writers, but a steady diet of prompts thwarts creativity and the production of writers who know how to write about things that truly matter to them. Yet if we aren't relying on prompts, we run the risk of having to handle the dreaded whine, "But I don't know what to write about!"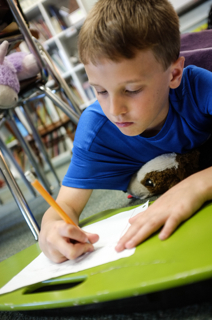 One of our favorite strategies is to pull out poetry. We have never been teachers who restrict poetry to the obligatory "April Poetry Month." Instead we begin our year immersing children in poetry; Acrostic, Cinquain, Free Verse, Haiku, Funny Poems, Nature Poems, and more. We read poetry aloud, choral read, act out poems, and have students share their own poems. We frequently remind students, "Hey, during Work on Writing, you could write a poem like this one!"
We have found that a poem can be a wonderful way into writing. For some students it isn't as daunting as a whole story and there is greater freedom regarding conventions.
If you aren't familiar with Katie Wood Ray, you might like to check out her books In Pictures and In Words: Teaching the Qualities of Good Writing Through Illustration Study and About the Authors: Writing Workshop with Our Youngest Writers.
Regie Routman also has a wonderful series of books out for teaching poetry to children. Each title starts with Kids' Poems and is followed by the grade level it's intended for.
Lucy Calkins has a book called Poetry: Powerful Thoughts in Tiny Packages that is also wonderful, and if you don't know about her Units of Study, they are an amazing resource for teaching writing.