Successful Seating Choices for Students
---
Join Our Community
Access this resource now. Get up to three resources every month for free.
Choose from thousands of articles, lessons, guides, videos, and printables.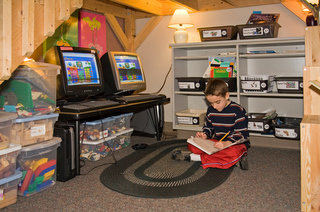 Think back to the students you have taught or are teaching now. Can you picture those who, when asked to sit in a chair at a desk or table, were kneeling on the chair? How about kids who stand with one foot on the seat of the chair, or even better, students who attempted to comply with the "please sit in your chair" request only to find themselves literally bucked off of it, chair flying one way, student flying the other!
Let's face it: not all students—or adults for that matter—are comfortable sitting in a chair. When we finally accepted this reality, we set about to come up with optional seating students could choose from.
The table seen in this picture is the kind often found in schools. It has adjustable legs, which can be lowered or removed completely. (See more examples). This creates a lower table for students of all ages who prefer floor seating. A small throw rug can also create an inviting space for our students who prefer the floor.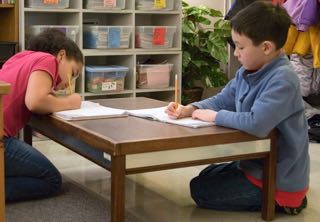 The two students in this photo are typically knee-sitters when in a chair, so the short table and carpet are perfect for meeting their physical needs, allowing them to concentrate on their writing.
We have also raised one or two desks about waist high and removed the chairs for students who like to stand. Some of our students can sustain writing for an entire round when standing but get fidgety when forced to sit in a chair.
When we provide choices of where to sit, some students find themselves much more successful, and behavioral issues are often eliminated.