Student-Produced Strategy Cards
---
Join Our Community
Access this resource now. Get up to three resources every month for free.
Choose from thousands of articles, lessons, guides, videos, and printables.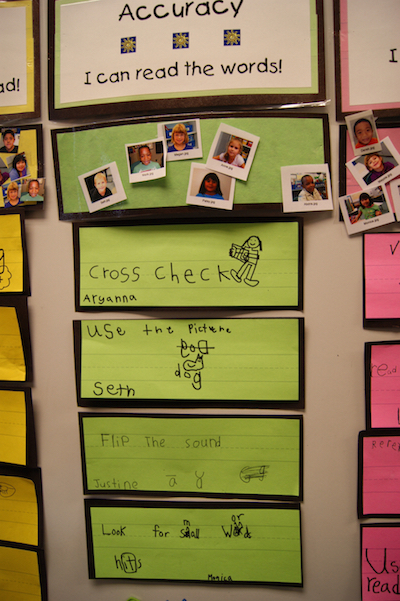 The strategy cards beneath the classroom CAFE Menu serve as visual reminders of lessons that have been taught to the whole group. Because we add them as we teach, the CAFE Menu grows and takes shape from the first day of school all the way through to the last week.
We are pretty passionate about having students, whether in kindergarten or eighth grade, be the ones to write the strategies on the cards as we introduce them. These essential CAFE Menu items looked great when we made them with our best printing and the cutest clip art we could find, but students rarely referred to them.
We go back to one of our favorite sayings: "The one who does the most work learns the most." Learning sticks, and students take ownership when they write the cards and the CAFE Menu becomes a visual aid that is referred to frequently. 
We typically write the strategy on a sticky note and let students transfer it to a card, but when we saw this idea in Emily Chapin's first-grade classroom, we just had to share it with you. It is a perfect solution for teachers who want the finished product to meet a certain standard but would like to let students have some ownership.
With pencil, Emily writes the strategy very lightly on a sentence strip. The student who is selected to publish the card simply traces Emily's pencil lines with a felt-tip pen. The child adds a corresponding illustration, and the card is added to the CAFE Menu. Genius.