Picking Partners in Math Daily 3
---
Join Our Community
Access this resource now. Get up to three resources every month for free.
Choose from thousands of articles, lessons, guides, videos, and printables.
When we teach students how to choose partners for Math with Someone, we follow the same routine as we did during Daily 5 when teaching students to select a partner for Read to Someone. At the beginning of the school year, we are very systematic with our instruction for picking partners: we set high expectations, practice a multitude of times, and hold students accountable for tone of voice and treating each other with respect.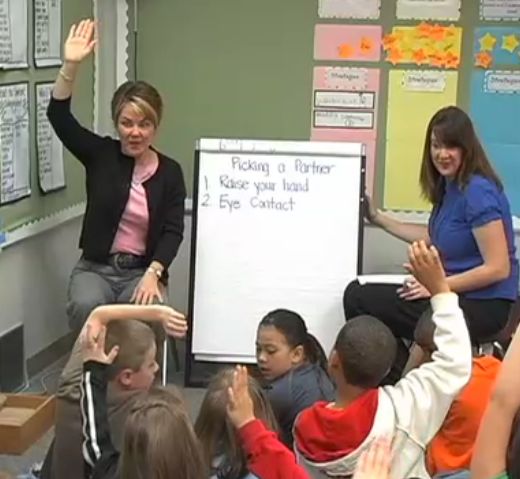 There are four steps:
Communicate quietly with the group that you need a partner. In our classrooms that means our mouth is quiet but our hand is up, which is the silent signal that we are looking for a partner. 
Make eye contact with another person who needs a partner. 
Once eye contact is made, quietly move toward the person you are looking at. 
In a kind tone, one person asks,  "Would you please be my partner?" The other responds in an equally kind tone, "Yes, thank you."
Once we create the anchor chart about choosing partners, we explicitly model for students and provide time to practice. We continue modeling and practicing for several days so students are well grounded in the expectations and have ample opportunities to replicate the steps with automaticity. 
If the process gets bumpy, we step back and determine if we need to revisit expectations, model again, or just provide a reminder. If cliques emerge or unkind behavior continues to occur, we may resort to choosing partners for students until they can manage again.
For numerous videos and articles providing more tips and suggestions for this all-important skill, visit the Choosing a Partner section of Daily 5's Read to Someone.