Join Our Community
Access this resource now. Get up to three resources every month for free.
Choose from thousands of articles, lessons, guides, videos, and printables.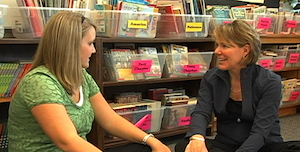 Positive partnerships with parents and guardians is one of the highlights of teaching. It is easier for students to succeed and reach their potential when their parents and teacher are a cohesive team. There are several ways we help to foster and support these relationships.
Explaining Daily 5 and CAFE—The Daily 5 management style may look very different from the one parents experienced when they were young (they often wonder where all the worksheets are). A simple letter explaining Daily 5 and CAFE really helps clarify what to expect from this different-looking literacy system and structure. Here are a few examples you can take and make your own.
Partners inside the classroom—We value and love having in-class support. When parents want to support us within the classroom walls, we welcome them gladly and provide guidance that makes the most of their help and presence.

Joan waits until behaviors of independence and stamina have been built before she invites parents to partner in the classroom. If they want to volunteer right away, she provides seven choices that would be helpful to her and her students. 
Here are three specific things Joan does to prepare and train her parent helpers once Daily 5 is up and running. 
Partners at home—Frequent communication can come in a variety of ways and helps our parents understand and reinforce their child's learning.

Parent Pipelines make it easy to provide parents with the information they need to know to support their child's individual goals and strategies. We have found that when they are ready and organized, we can easily provide them without having to plan ahead or scramble to make copies.
Classroom Newsletters  provide parents with important communication around all subjects and activities. 
The CCPensieve allows us to easily share personalized pdfs of our work with a child. They are easily customizable, and we can share our interactions for the day, the week, or longer. 
Good communication is key to fostering positive relationships with parents and making the most of these powerful partnerships.