Paper Pensieve Summary to Pass to the Next Teacher
---
Join Our Community
Access this resource now. Get up to three resources every month for free.
Choose from thousands of articles, lessons, guides, videos, and printables.
Reading the discussion board last weekend I noticed a post asking for a summary sheet. The idea of a summary sheet is for teachers to have a way to summarize a student's conferring sessions into a quick and easy form that will benefit teachers at the next grade level. A few years ago, I found myself looking for the same type of document, so I created one that has been tweaked a few times since. You may find mine will work for you or you may wish to take the general idea and create one of your own based on what you want next teachers to be aware of.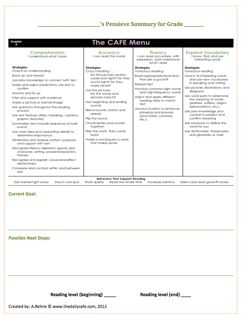 The summary sheet I created has a smaller version of the CAFE menu at the top. I used a highlighter to highlight the strategies the student covered throughout the year. Then, in the middle, I wrote the goal and strategy the student was working on at the end of the school year, and the goals established for the student over the summer. At the bottom I wrote possible ideas for instruction or concepts/strategies to pay close attention to at the beginning of the year. The very last thing listed on the form was the student's reading level at the beginning of the year and at the end of the year. This gives a little insight as to if it was a year of large gains or a year of small/steady progress.
When deciding what to include on the summary sheet, remember to keep the end goal in sight. It is not important to relay all of the individual conferring notes or to set a goal for the upcoming year. Remember, some students will return in the fall with summer reading loss and others will make gains. It is impossible to know where they will be when they return. Therefore, a simple summary sheet provides the next teacher with an overview of what strategies were introduced/ taught and the student's most recent focus in school. This information proves to be invaluable as teachers have conversations with students in the fall.