Our Whole-Group Journey—How Our Instruction Has Changed
---
Join Our Community
Access this resource now. Get up to three resources every month for free.
Choose from thousands of articles, lessons, guides, videos, and printables.
When we were new teachers, our whole-class instruction was driven by a basal. The lessons were l—o—n—g and imparted a lot of information. Right after the lesson, students practiced what we taught with a ditto or worksheet, which was provided with the program. The next day, we taught a different l—o—n—g lesson and students practiced with another ditto or worksheet.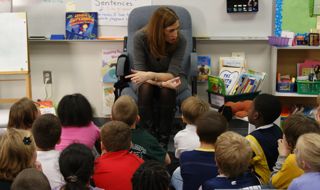 There were 135 different comprehension lessons in our reading program package, and students were expected to complete more than 200 worksheets. Both felt staggering to us, so we began to research the workshop approach. When we were racing through the 135-lesson program, we'd finish one concept and never go back. Now after introducing a new strategy, we refer to it often, layering on—reteaching, reinforcing, and helping students see new possibilities for how the strategies can help them as readers. We say things like, "Now that you're comfortable with the inferring strategy, let's look at how cross checking works with inferring to help you make sense of a text."
We've pared the strategies down to those that work consistently for our students, and acknowledge that our CAFE Menu is not a comprehensive list of all the strategies readers use. Feel free to add to the menu based on your standards and curriculum guidelines as well as knowledge of your students. Some of the strategies may not be taught at all in early primary grades because they're not developmentally appropriate.
The structure of the Daily 5 allows us to purposefully and effectively focus on the needs of our readers. The CAFE Menu helps us intentionally teach strategies that will help them achieve their goals. We are grateful that our first students learned in spite of us, but even more appreciative that our current students will benefit from our professional growth, intentional teaching, and a differentiated approach to meeting individual needs.