Join Our Community
Access this resource now. Get up to three resources every month for free.
Choose from thousands of articles, lessons, guides, videos, and printables.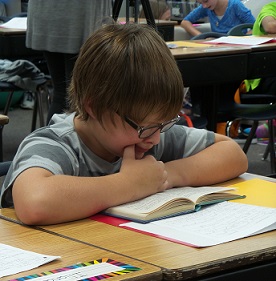 Picture this: your focus lesson is finished, the students have chosen their tasks and are seated around the room engaged in their work, and you meet with a small group on the accuracy strategy Flip the sound. A few minutes into your small-group lesson you hear, "I'm done!"
 You think to yourself, Really? Did Jonathan really just say he was done? How can that be? Now what??
What do you do when a child finishes the book he is reading, the story he is writing, or the audio recording he was listening to? What do you do when your students are finished before you are ready?
It is not really about what to do when they are done. Instead, it is a question of why they are done before you have signaled the end of the round. Students fully trained and engaged in Daily 5 have used the 10 Steps to Independence to train their muscle memory and practice the behaviors of independence. They have learned behaviors through an anchor chart and through modeling, and have slowly built stamina for expectations and independence. Students using Daily 5 do not ever finish, because the tasks they are working on are authentic and have no end. If they finish one book, they reread or start another. If they finish a piece of writing, they revise or begin another. Students in a Daily 5 classroom know the teacher is busy working with students and that their job is to be working the whole time. 
So, if the above scenario happens, we suggest you ask yourself why they believe they are done. Then consider these questions: 
Is it just one student or are you noticing this behavior from many of them? It might be time for the whole class to revisit the anchor charts and focus on stamina building for a few days. It may be necessary for only one child to review through individual conferring, or possibly a few children in a small group. 
Are you allowing choice? This includes choosing which task they are working on, where they are sitting, and what they are reading. Comfort plays a large role in stamina. We are more engaged when we are in charge of our learning.
Have you provided expectations for what children should do when they finish reading a book or complete their writing piece? If not, it is beneficial to provide this for students on the anchor chart so they can refer to it when needed. For example, when students finish a piece of writing, they know they have three choices. They can add to the pictures, add to the words, or start a new story.  If they finish a book, they can reread it or start another one.
The good news is that when students are trained in Daily 5, their muscle memory knows what to do, and "I'm done!" will become a thing of the past.