Launch Daily 5 and CAFE Routines in 15 Days
---
Join Our Community
Access this resource now. Get up to three resources every month for free.
Choose from thousands of articles, lessons, guides, videos, and printables.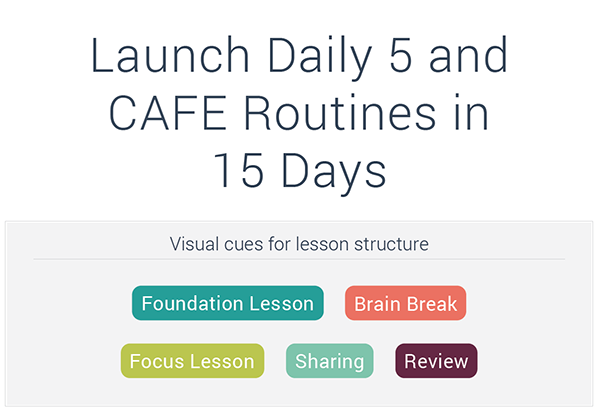 These lessons are the same ones that are in the back of The Daily 5, second edition. We have embedded hyperlinks to videos, articles, and other lessons to deepen your understanding of each aspect of the launch of the Daily 5 and CAFE.
1. Go to "Lesson Plans for Launching the Daily 5 and CAFE" on page 169 in the book or follow the link below.
2. Read—Study the lessons, taking notes as you go. What makes sense? What needs more clarification?
3. Watch—Click the corresponding hyperlinks and watch the lessons being taught.
4. Note—Jot down things you want to remember when teaching your students. Use these lessons and your notes to help support you in launching Daily 5 and CAFE.
These lessons are perfect for Daily 5 and CAFE development with your staff and grade-level teams, as well as for individual learning.