Keeping Track of Young Students Early in the Year
---
Join Our Community
Access this resource now. Get up to three resources every month for free.
Choose from thousands of articles, lessons, guides, videos, and printables.
I was chatting with a new kindergarten teacher who shared that her biggest fear is misplacing a child during the first week of school. I can fully understand her fear. Years ago, I took my K–2 class on a field trip to the fair on the third day of school. Now, before any of you judge me for such folly, let me defend myself by sharing that the trip had been scheduled the prior spring. It was already booked so we had to go, even though it was against my better judgment.
Being an experienced teacher, I called upon all of my previous, successful, practical knowledge of planning and organizing field trips and was ready with ample support as well as a foolproof name-tag and grouping system. I knew the large fairgrounds well, and was certain I had thought through every scenario.
Alas, nothing prepared me for the fact that I had been with these children for only two days, and there were 32 of them. Quite frankly I had a hard time even remembering all of their names. Not to mention there were hundreds of other young children and their teachers at the fair that same day. (Do you have any idea how similar little kids look as they race from one area to the next?)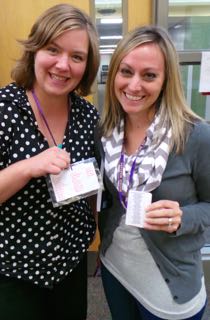 I still wake up in a cold sweat remembering that fateful field trip, because one of my youngest boys went missing. Mind you, it wasn't just a look-up-from-where-you-are, where-is-he, oh-whew, there-he is-right-over-there kind of missing. He was gone for over two hours! In other words, the perfect amount of time for a small child to curl up for a nap in the soft hay at the feet of the giant Clydesdale horses.
Needless to say, I was delighted to be able to share with my new kindergarten teacher friend this wonderful strategy from Kacey Beyer and Kristen Craig, two kindergarten teachers from Waukee, Iowa. As you can see, they take their class list and place it around their neck. Always having each student name at the ready allows for quick group scans or calling out names to be sure all are accounted for. What a wonderful, fear-alleviating idea. 
Thank you so much for this idea, Kacey and Kristen. It's such a great strategy to share with teachers. I only wish I had had it before that epic and unforgettable field trip.