Joan Moser
September 5, 2014
Issue #320
For some of you, the school year has begun, and for others, it will start soon. This is an exciting and critical time of year.
Why? In the astute words of Lester Laminack, "The wisest investment of time in the first 20 days of school is to focus on the structures and routines that will build a community of kindness and trust."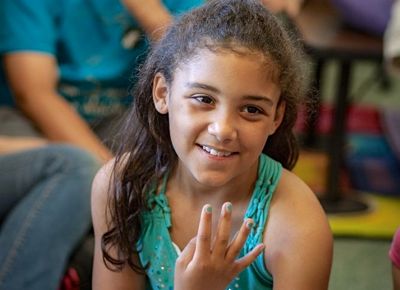 Isn't that what we all strive for? A classroom of children focused on loving to learn, all the while enjoying the process within a community of supportive classmates. When we were developing the Daily 5, this was a concerted area of focus for us. Our desire was to set the stage for the rest of the year with our students, imprinting everything from the tone of voice we wanted to hear used with each other to respectfully choosing partners. We focused on creating a culture of mutual respect, support, and kindness. We found that all of these goals were achievable with a large amount of modeling, the setting of high expectations, and perhaps most important, holding students accountable by taking the time to stop, teach, and practice the desired behaviors.
Daniel Hodge (@hodge_dv) recently tweeted a note about his classroom (@sharks130) that caught my eye and made me pause. With permission, I share the tweet that said, "My children went from 'Who broke the stamina?' during Read to Self to, 'How did we break our stamina?'" 
As some of you may have experienced, it can be easy for classmates to get frustrated when they have to stop a round of Daily 5 at what they consider a premature time. They often know which classmate broke stamina first, and most detrimentally the group may point fingers at a particularly difficult child or two who may be the barometer children (those students who dictate the weather of the classroom). When this happens in the first days of school, it can set a negative tone for the rest of the year, making it very hard to shift to a positive culture.
When I read Daniel's tweet, I marveled at the change of language in this class. It was a subtle shift in words for sure, yet it clearly moved the group from perhaps creating a scapegoat, to problem solving what went wrong and what needed to be done to fix it.
After hearing the language of these students, I couldn't wait to get permission to share with all of you.  I believe this language is something that can be replicated through modeling, therefore helping students change their perspective. 
Thank you, Daniel @hodge_dv for sharing the wise words being used in your classroom. It has certainly helped me learn a new technique for creating a community of kindness and trust. 
Easily Update Your Tip of the Week E-mail Address
If you need to update the address your Tip of the Week e-mail comes to,
simply click on the Update Subscription Preferences link at the bottom of the tip e-mail and enter your current information.
News from The Daily CAFE
---
*Available to members
Article
This comprehensive guide will help you kick-start your Daily CAFE journey
Article and Download
Lori Sabo shares the form her kids use to assess the contents of their book boxes
Download
Here is what we do in our own classrooms when launching Daily 5 and CAFE together
Article
This Quick Start Guide will help you get Read to Self launched smoothly. 
Article
We teach these lessons during the days of building Read to Self stamina so students are prepared when it is time to introduce Work on Writing.
Download
This one-page document will help you launch Math by Myself smoothly and successfully.
Video
Starting with a vision and expectation before making a change in a space helps to define the project.
Professional Development Opportunities
---
This is a perfect time to reflect on and refine your knowledge of Daily 5 and CAFE.  We hope you can join us at one of our upcoming opportunities.
Live Workshops:

September 20 & 21
(sold out both days)

Daily 5, October 11
CAFE,  October 12

Daily 5, November 1
CAFE, November 2

Online Seminars:

Join us from the comfort of your own home or classroom for a four-week online seminar about Daily 5 and/or CAFE. Upcoming dates

Sept. 28-Oct. 25, 2014

Oct. 26-Nov. 22, 2014

Learn more about Daily 5 and CAFE workshops, online seminars, and online graduate courses.
Professional Development
Opportunities to learn more abound! Whether you want to collaborate with us in-person or prefer pd in your pjs, we have the instruction for you.

Online Workshops Online Seminars Graduate Courses