How Do Daily 5 and CAFE Work With Special Education Students?
---
Join Our Community
Access this resource now. Get up to three resources every month for free.
Choose from thousands of articles, lessons, guides, videos, and printables.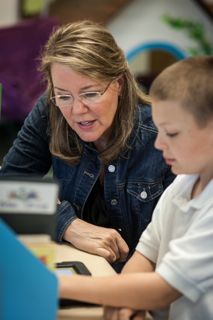 Both Gail and I have degrees in special-education and have taught special ed. We believe that our backgrounds in special education helped lay the groundwork for both Daily 5 and CAFE. Our experience has shown both Daily 5 and CAFE are a great match with all types of general ed students as well as our special needs students. We've seen it work with our children on the autism spectrum, and with students who have learning disabilities.  
One of the strengths of the Daily 5 structure for students with higher needs is the 10 Steps to Independence. These incremental steps teach children, through the gradual release of responsibility, to become independent doing almost anything. They focus on visual two-dimensional learning, as well as crucial three-dimensional learning and practice. 
The support documents we have for barometer children help make success possible for everyone in the room. So even if our students' brains and bodies are developing at a different rate from those of their peers, Daily 5 helps meet them where they are and sets them on a path to proficiency.
As for CAFE, all students, in particular those with special needs, deserve to have exquisite, focused, individual instruction based on their own needs. This is exactly what CAFE allows teachers to do. So yes, all kids, all ages, all abilities. A perfect fit.