Join Our Community
Access this resource now. Get up to three resources every month for free.
Choose from thousands of articles, lessons, guides, videos, and printables.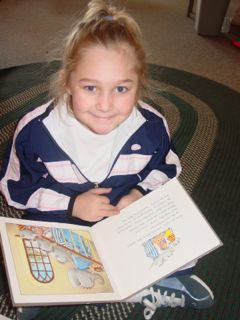 Here's a collection of sight word activities designed to make your students smile as they are learning their sight words. 
Sight Word Song   
Generate some sight word excitement by sharing this song (sung to the tune of "Old MacDonald Had a Farm") with students to increase their awareness and knowledge of sight words.  In place of offering a traditional animal sound in the song, children can choose a sight word from a "good-fit" book open in front of them or from the classroom word wall. When the teacher says a child's name, the student can supply the sight word. Children can sing the song in a small-group or whole-class setting once they know the words and the routine. 
All good readers know their sight words
E-I-E-I-O!
And in our books, there are some sight words
E-I-E-I-O!
With a sight word here, and a sight word there,
Here a word, there a word
Everywhere a sight word!
All good readers know their sight words
E-I-E-I-O!
And in (his/her) book, _____ has a sight word (supply the chosen child's name).
E-I-E-I-O!
With a(n) _____, ______ here (supply the selected sight word in the blank).
And a(n) ______, _____there
Here a(n) _____, there a(n)_____
Everywhere a(n) ______!
(repeat first verse)
Sight Word Herd
Introduce the concept of a "herd" to the children. Explain that people talk about a herd of sheep, a herd of cows, a herd of elephants, a herd of buffalo, and so on.  Have students vote on the type of animal herd they would like to be featured as your classroom sight word herd. Designate a bulletin board or wall area of your room for the sight word herd that features animal cutouts of their chosen herd. Each day, randomly select a student to choose a sight word that you have introduced. Have the student write the word on an animal cutout and add it to the herd (you can invite children to add more than one as their sight word knowledge grows). During Daily 5 Word Work time, encourage students to visit the "word herd" to practice reading and writing the words.
Sight Word Hunt
Distribute a page from the newspaper, grocery advertisements, or old children's magazines (larger print works best) to each child; encourage them to find sight words on the page. They can use a highlighter to mark the words. For practice, they can read their highlighted sight words to a classmate. 
Sight Word Savings
Display a large piggy bank in your classroom. Place blank word cards that students can use to record sight words next to the bank. Invite each child to contribute one or two sight words to the piggy bank. On a designated day of the week, take the cards out of the bank and write them on a chart. Then invite the children to read the sight words with you. Each week, you will have an anchor chart of sight words that the children are learning. Children can practice reading the charts during their Daily 5 Word Work time. 
Begin with a new piggy bank deposit of sight words each week. To chart their growth, students may want to graph the number of words that are added to the pig each week. 
Sight Word Road
Get a roll of vinyl shelf liner to create a road in your classroom. If vinyl shelf liner is not available, cut a vinyl tablecloth or heavy tagboard into wide strips.  Securely fasten a length of the vinyl shelf liner (or vinyl tablecloth or tagboard strips) to your classroom carpet or floor to create a road. Write sight words on pieces of sentence strips (laminate them for greater durability) and attach them to the road.  Supply a brain-and-body break by having small groups of children name the sight words as they travel the "Sight Word Road."
Sight Word Circle
This small-group activity provides sight word practice and provides another opportunity for a brain-and-body break. Arrange your classroom chairs in a circle. Tape a list of three-to-five sight words on the back of each chair. Invite children to stand behind a chair and read the sight words listed on the back of that chair. Roll a die and tell the children to move that number of spaces clockwise around the circle. When they arrive at the new chair, they will have a new list of words to read. 
Sight Word Place Mats
You can encourage students to practice their sight words with a friend as they munch on a recess snack or wait for the lunch bell to ring. Using cardstock, prepare a two-sided list of sight words that your students are practicing. Laminate the place mats for greater durability. Tell students that they can practice reading the words to themselves or work with a friend. Parents might also enjoy using these place mats to help their children with sight word practice at home. 
Sight Word Stroll
If you have a couple of well-worn, easy-reading Big Books in your classroom, consider separating the pages so that you can display them around the room. If you don't have any Big Books to spare, copy a poem or nursery rhyme on a chart. Use highlighter tape to indicate the sight words in the text. Encourage students to take a quiet stroll in pairs or trios around the gallery of displayed pages or charts. Designate a special sight word pointer that partners can use to practice the words.