Expanding Sight Word Vocabulary
---
Join Our Community
Access this resource now. Get up to three resources every month for free.
Choose from thousands of articles, lessons, guides, videos, and printables.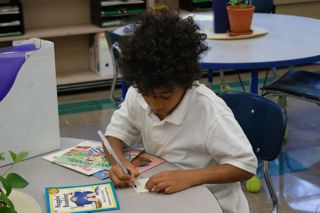 It is important that an emerging reader develop a store of sight words (words that are recognized immediately). The larger the store of sight words a child has, the more rapidly and fluently he or she can read.
The sight word must be shown and told to the emergent reader. The learner must "look" at the printed word when it is said. The teacher or tutor should use the word in a sentence to provide a context for learning the word.
Students acquiring more sight words should also learn to understand the word's role in a sentence. We know this as parts of speech, but rather than drilling nouns, verbs, adjectives, and so on, the learner should have an overall understanding of how the acquired word fits into our language. With so many words in our language having multiple meanings, the function of a word in a sentence or complete thought is important at this stage.
Here are other activities to help a reading student build his or her sight word vocabulary:
Point to the letters and name the letters in the sight word.
Write the sight words on flashcards.
Locate the sight words in newspapers, magazines or books. Students can circle the word with a colored pencil or use a highlighter mark the words.
There is a place for drill and practice to be able to recognize a word instantly. Say, write, cover, say and write each word.
Use as many senses as possible to learn sight words. Make each activity visual, auditory, and tactile. For tactile practice, writing in sand is an excellent way to make the body-mind connection in word recognition.
An emerging or developing reader can build an amazingly large bank of sight words. It is as though the person takes a snapshot of a word in his or her mind and can match it to the word when encountered in reading. Teaching sight words is an instructional strategy that is important to the reading process.