Encouraging Summer Math Practice
---
Join Our Community
Access this resource now. Get up to three resources every month for free.
Choose from thousands of articles, lessons, guides, videos, and printables.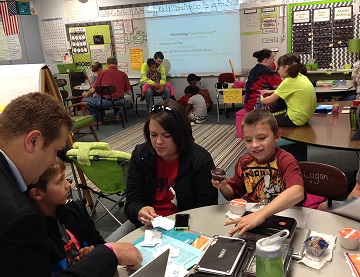 Throughout the school year, as math concepts are taught, activities are added to the Math Daily 3 Menu. These activities are practiced during independent rounds of Math Daily 3 and allow students to have fun while reviewing and mastering math skills. As the year comes to a close, it is important we provide opportunities that allow them to continue their learning and growth. We have a few ideas to help you accomplish this.
Host a classroom event so students can teach parents and guardians the math games they have played throughout the year. This can be done as an evening event, before school, or during the school day. Greene County Elementary in Iowa hosts a Math & Muffins event each May where parents come to school with their child for the first 40 minutes of the day. While there, they enjoy muffins, juice, and a variety of math games. Before leaving, parents receive a baggie of take-home supplies so materials are readily available at home.

*During the pandemic, this activity was moved online where children recorded videos sharing how the game was played, and the video along with any necessary printables were posted for parents to view.
Send home a list of websites that will allow children to sharpen their math skills. Here are a few that have been recommended to us:
Introduce families to your local library (when it is open and safe to do so). Many libraries have computers, games, books, and even summer programs that provide hours of entertainment and enhance learning in not only reading, but also math, science, and social studies. Make it easy for families by providing the location, summer hours, and a local bus schedule to help with possible transportation needs. 
Send a weekly email to parents including one or two ideas for keeping their child's math skills sharp during the summer. These brief messages from you will serve as important and welcome reminders to them. If you don't know where to start, an Internet search will lead you to many great resources like this article, which provides 10 ways to work math into your summer routine. 
How do you encourage math practice during the summer? Visit our Discussion Board to see what your colleagues do worldwide and add your ideas to the mix.