A Do-It-Yourself Reading Nook
---
Join Our Community
Access this resource now. Get up to three resources every month for free.
Choose from thousands of articles, lessons, guides, videos, and printables.
In the classroom, every reader can choose a special place to read each day. Readers can sit in comfortable chairs, lounge on beanbags, or sit at low tables. To encourage reading at home, why not make a reading nook just for your child? With your reader's help, it's fun and easy to do. Here is some guidance about creating a reading nook that is both functional and fun. Best of all, it should not cost you any money to make one! Just use what you already have at home.
Start by finding out where your child likes to sit while doing independent reading in the classroom. Invite your student to tell about that favorite reading spot. Is it in the middle of the action or off in a corner? Ask about the kind of seating that your child likes best. Is it a large pillow, a carpet mat, a soft blanket, or a cozy bench? Once you have that information, the two of you can begin your work.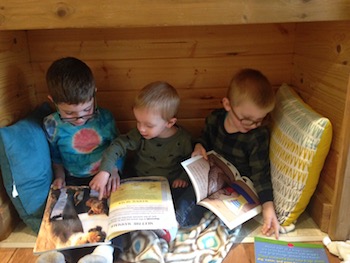 With your child, embark on a tour of your home. If your space is limited, be assured that you can still create a reading nook that your child will love. Ask your child to consider areas that are similar to a favorite space at school, but be open to alternatives, too. Consider inviting alcoves and unused corners. If you have access to a camera, ask your child to take photos of the spaces that look most promising. Discuss the options, and encourage your child to pick one.
Once your child picks a spot, brainstorm a list of household items to add to it. Might there be a beloved blanket or soft pillow you could add? Is there a rocking chair, lawn chair, ottoman, or sleeping bag in the attic or basement that could be used? Can you find a card table and cover it with a blanket or bedsheet for a private reading tent? Could a lamp be brought in from another room for better lighting? Challenge your child to think about what items can be repurposed to use in the reading nook.
After the spot and the "furnishings" have been decided on, it's time to make the reading nook beautiful! To beautify the reading nook, ask your child to suggest some additions. Is a plant just what that area needs? Would a couple of stuffed animals make the reading nook a truly special place? Might a family picture or favorite drawing supply the finishing touches? Listen carefully to your child's ideas.
Then it's time to add the most important part of all—the books. By visiting the library often, your reader should have an ample supply of reading material to choose from. With a little creativity, your son or daughter can make and decorate a book box. Or, the books can be kept in baskets or plastic totes. If you have shelves, your reader can proudly display books on them.
Your reader will truly enjoy making a book nook with you. A personally designed book nook encourages readers and offers them special places to make memories with books!