Daily 5 Provides the Foundation for Teaching
---
Join Our Community
Access this resource now. Get up to three resources every month for free.
Choose from thousands of articles, lessons, guides, videos, and printables.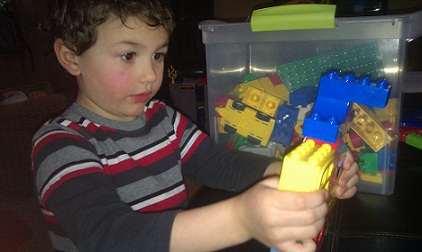 Blocks come in all colors, shapes, and sizes. As a teacher, literacy coach, and mother, I have seen many varieties?cardboard, wooden, plastic, foam, and more. I've watched children build with blocks at school and at home. Sometimes their buildings grow taller and taller by the minute, leaving onlookers in awe. At other times they topple, much to the children's disappointment. When I reflect on what makes the difference, I always come back to the same answer: the foundation.
Time after time, the young builders who shore up the foundations of their magnificent towers and high-rises block by block meet with success. Since the basic foundations of their buildings are sound, they can add upper floors, ornate roofs, and stout chimneys. 
Educators need the kind of foundation the Daily 5 provides for vital teaching in the age of Common Core State Standards. They have new standards to meet, more rigorous instruction to deliver, and a multitude of twenty-first-century learners to prepare. Right now, those twenty-first-century learners who fill classrooms, libraries, computer labs, and playgrounds may seem far away from the worlds of the university and workforce; however, they have already begun their journeys to college and career readiness.
The introduction to the Common Core State Standards for English Language Arts describes the characteristics of students who are college and career ready and stresses that these individuals"?become self-directed learners, effectively seeking out and using resources to assist them, including teachers, peers, and print and digital reference materials" (p.7). Through the practical structure of Daily 5, students develop self-efficacy and are able to locate and use these resources for their learning.
Daily 5 provides a structure for teaching the content of the Common Core. To meet the challenging content of these standards, students need both stamina and the ability to work independently. These are the cornerstones of Daily 5. In a 2012 Edweek interview with author and educator Peter DeWitt, Joan Moser talked about the Daily 5's overarching goal:
When a child comes to school we teach them to become better readers, writers, mathematicians and thinkers. Likewise, Daily 5 is all about taking those students who come to school without the skills to be independent and teaching them to build their stamina for independent work. All that is done through direct instruction.
During the same interview, Gail Boushey explained how Daily 5 and the Literacy CAFE are intended to work together:
When we were developing the Daily 5, we wanted to work on the behavior component first so we could get our students at a point where they were independent, not relying on us to keep them on task with busy work. It was after we taught them to be independent that we wanted to focus on what we were teaching. That is where the Literacy CAFE came from and is how we focus on those standards. Teachers will be able to teach the CCSS using CAFE within the Daily 5 framework.
As The Sisters make clear, Daily 5 engages students in essential literacy activities and allows teachers to do what they do best: work with students. Daily 5 sets students on the course of self-direction and encourages them to develop intrinsic motivation to grow as thinkers.
By helping the teacher create I-charts, students become metacognitive about their work habits. They learn about the expectations of their teachers and their learning community so that their classroom is a harmonious place of learning. There is no time to waste; even at a very young age, students realize the significance of their work. In their book The Daily Five, The Sisters provide an example of this urgency when they tell the story of Jenna, a girl who bravely asked two administrators to leave the classroom so she could accomplish her reading work. (Boushey & Moser, 2006, p. 23). Convinced that Jenna's reading and stamina building were more pressing than a classroom visit, the administrators left with a smile.
As students experience the routines of Daily 5, they have ample time to practice their reading and writing skills. Engaged in Read to Self, Read to Someone, Listen to Reading, Work on Writing, and Word Work they develop the communication skills required of twenty-first-century learners. Each day, they draw upon what they have learned in minilessons, small-group work, whole-class lessons, and reading and writing workshop sessions. Just as in the world of college and careers, students work as individuals and collaboratively. Through wide reading and purposeful writing, they build their confidence and expertise as readers and writers. Growing up with technology, they seek out print and digital resources with equal ease.
Working in a Common Core-aligned classroom, teachers incorporate more nonfiction, ask a greater number of text-dependent questions, encourage more close reading, and include complex texts in their instruction. In response to this rigorous instruction, students use their Daily 5 work time to undertake meaningful Common Core literacy tasks. This effort?encompassing critical thinking?may require citing text evidence, reading closely, reflecting on author's craft, comparing two or more works, expressing opinions, and grappling with new ideas. Surely, the work will be challenging, but teachers who use the Daily 5 to create the necessary foundation can rest assured that it will be manageable and fulfilling for them and their students.
References
Boushey, G., & Moser, J. (2006). The daily 5. Portland, ME: Stenhouse.
DeWitt, P. (2012, September 8). An interview with the two sisters: Finding common ground [Web log post]. Retrieved from Edweek Blog Finding Common Ground
National Governors Association Center for Best Practices, Council of Chief State School Officers. (2010). Common core state standards for English language arts & literacy in history/social studies, science, and technical subjects. Retrieved from National Governors Association Center for Best Practices, Council of Chief State School Officers, Washington, DC. Website: www.corestandards.org/assets/CCSSI_ELA