Daily 5 and Gifted Students–Three Suggestions
---
Join Our Community
Access this resource now. Get up to three resources every month for free.
Choose from thousands of articles, lessons, guides, videos, and printables.
When considering students in our class who are reading or writing above grade level, our experience tells us that the Daily 5 is a perfect match for their learning.
As hard as it may be to admit, we know the phrase 'Fair is not always equal' runs true in the classroom. Our most struggling students need more side-by-side coaching from us than our higher functioning children - think professional golfer vs beginning golfer. (or substitute any sport for golf!) Beginning golfers benefit from more one-on-one coaching. More advanced golfers need less frequent checking in as their means of support and more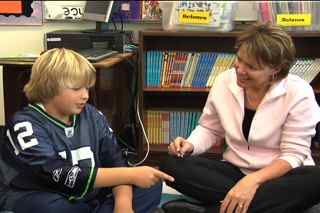 independent playing time. By utilizing the structure of The Daily 5 in our classrooms we are able to allow those more advanced readers and writers the practice time they need and deserve, with the teacher popping in once or twice a week to offer support.
Here are a couple of guidelines we have when working with older or advanced students in Daily 5:
1) We typically don't ask students who are reading well above grade level to listen to reading. They no longer require the fluency model or support this provides. Instead, they select from Read to Self or Work on Writing.
2) We also do not require students who are excellent spellers or have advanced vocabularies to participate in Word Work. It is not an efficient use of their time. They will acquire more vocabulary by reading text they are interested in.
3) Since advanced students don't often fit into the other strategy groups, we typically meet their needs via one-on-one conferring.