Daily 5 and Block Schedules
---
Join Our Community
Access this resource now. Get up to three resources every month for free.
Choose from thousands of articles, lessons, guides, videos, and printables.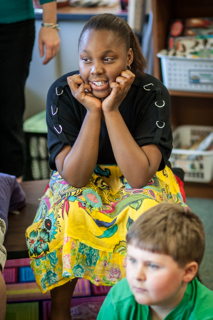 People from all over the world use Daily 5 in high schools, middle schools, special education rooms, and classrooms that run on a 'block' schedule (45-50 minute periods). Daily 5 can work even with these abreviated literacy blocks.  
If we keep in mind the fact that the Daily 5 is all about teaching children to be independent, participating in literacy activities supported by research so that we can work with individuals or small groups, it is easy to see how Daily 5 can fit into classrooms with limited timespans. But what does it look like?
We use the same 10 Steps to Independence to teach children how to Read to Self and Work on Writing, giving students ample time to build stamina.
Once stamina is built, we run the literacy block with either one or two rounds of Daily 5 during the block schedule. For older students, teachers typically do one round of Daily 5 where students Read to Self while the teacher confers individually. For younger students on a block schedule, teachers do 2 rounds of Daily 5 and students choose between Read to Self and Work on Writing each day.