CCPensieve–Transfering Students to Next Year's Teacher
---
Join Our Community
Access this resource now. Get up to three resources every month for free.
Choose from thousands of articles, lessons, guides, videos, and printables.
This feature is a powerful communication tool enabling instruction to begin on the first day a teacher works with a student. Each teacher can pick up where last year's teacher left off by opening the electronic pensieve and viewing the last conferring session recorded by the last teacher. Instruction is seamless, from year to year.
A new school year is coming to a close, and thoughts move forward to the next. Do you have students moving on to another teacher who is also a CCPensieve Premium member? Transfer a student to their class, so they can see all the past conferring sessions saved for that student.
Transfer a Student in 5 Simple steps*
1) Choose a student in your class and click on "Share Student" while in their conferring corner. (NOTE: If this student is already being shared with the teacher you want to transfer to, jump to step 3)

2) Type in the email address of the CCPensieve Premium Member you would like to transfer your student to in the textbox provided, and click "Share".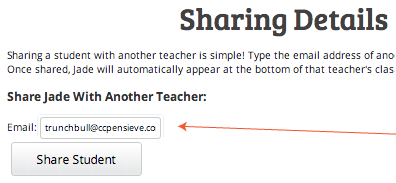 3) Return to the student's page and click "Edit Student". Notice we can now see we are sharing Jade with Trunchbull.

4) Click on "Transfer Student".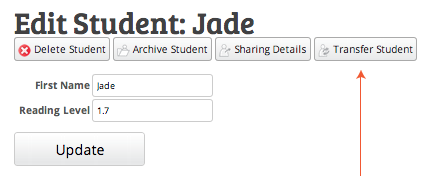 5) Choose the desired teacher you would like to transfer this student to, in this case we will transfer Jade into the classroom of the teacher we just shared. Once you click Transfer, you will no longer be able to see this student's information.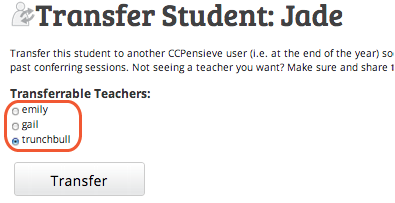 Note: The student's information is moved to the receiving teacher's classroom who now has the rights to add, edit, and delete all of the student data. To undo a transfer, the new teacher must share the student with the original teacher and then the new teacher must choose to transfer the student back to the original teacher using the above-described process.
*Premium Membership Required