CAFE Student Book–Great for Special Needs Students
---
Join Our Community
Access this resource now. Get up to three resources every month for free.
Choose from thousands of articles, lessons, guides, videos, and printables.
Autumn Ipok from Lake Stevens, Washington wrote:
I teach an elementary self-contained class for students with moderate to severe disabilities in the Lake Stevens School District. I have been using CAFE for two years with some of the students in our program and have seen great results! I made a few resources for my students to help them remember their goals, and I thought that other special education (or general education) teachers may be interested.
I made a strategy book that they keep in their book boxes. In the book, there is a page for each compone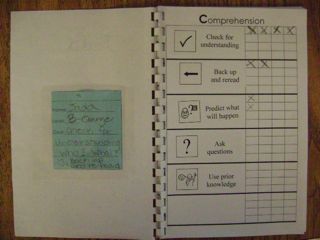 nt of reading. The pages contain blank areas for each strategy, and boxes for the students to mark when they use a strategy. I print each strategy with a picture cue on address labels and the students stick these in their books as they learn each strategy. I also cut out a small square of laminater film to create a pocket for their goal (written on a small sheet of paper) on the inside of the book.
At the beginning of our read to self time, I cue the students to check their CAFE menu and review their goal. I have noticed that my students are much more focused on their goals when they are right in front of them. This system has been very easy to manage.