CAFE Common Core Alignment—Grades 1–8 Matrix
---
Join Our Community
Access this resource now. Get up to three resources every month for free.
Choose from thousands of articles, lessons, guides, videos, and printables.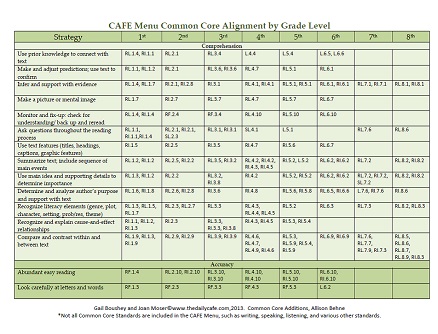 The purpose of the CAFE Menu is to help students understand and master the strategies used by proficient readers. The purpose of the Common Core is to provide a clear framework for teachers and parents to prepare K–12 students for college and careers. Although both are intended to enhance student performance, they are not one and the same.
The Common Core language arts standards are comprehensive standards that must be taught at each grade level, K–12. The CAFE Menu focuses specifically on reading strategies, not writing and speaking. It provides a resource for students to use in tackling challenges that interrupt reading and comprehension. Therefore, even though the menu has been aligned with the Common Core, it is not all-encompassing, and teachers must still visit the Common Core Standards to ensure they are teaching everything required. We find it helpful to lay the standards and a CAFE Menu alongside each other as we fill out a curriculum calendar, which will help guide our lessons throughout the year.
On the Daily CAFE website, you will find a CAFE Menu aligned with the CCSS for each grade level K–8. We have taken these menus and created a matrix showing alignment for grades 1–8. Although the information is the same, this matrix provides an "at-a-glance" view across the grade levels.