Behavior Form for the Conferring Notebook
---
Join Our Community
Access this resource now. Get up to three resources every month for free.
Choose from thousands of articles, lessons, guides, videos, and printables.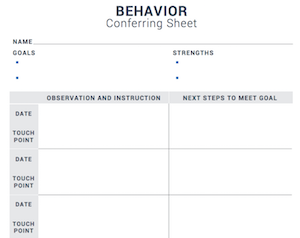 This is the form we use to record goals and strategies, and to monitor progress toward expected behaviors for students who need additional support and practice. Using the same format for behavior goals that we use for academic goals is helpful because it simplifies the process while keeping the same language. We print these forms back-to-back and keep a copy for students who need it in our conferring notebook. When we have filled the form with our conferring notes, we replace it with a clean one and transfer the full one to our assessment notebook or student file.
If you are wondering what behaviors students work on, they typically come from the I-chart. Some examples:
Read the whole time.
Stay in one spot.
Get started right away.
View Behavior Conferring Sheet
Our online conferring notebook allows us to confer about behavior as well as reading, writing, word work, math, science, and social studies. There is also a blank tab for keeping notes or conferring on any subject you wish.