After Teaching the Good-Fit Book Lesson
---
Join Our Community
Access this resource now. Get up to three resources every month for free.
Choose from thousands of articles, lessons, guides, videos, and printables.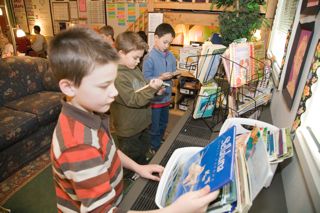 It is not only important that students be able to pick a good-fit book, we consider it to be a vital life skill. Whether it be in a bookstore, school library, or public library, empowering our children to pick a book that they are interested in as well as one they can comprehend is of vital importance to their success in reading and learning to fall in love with reading. That said, it is important to consider how to best support children of all ages in picking their own good-fit books. To do this, we begin the very first day of school and teach the I-PICK method of choosing a good-fit book. However, it doesn't stop there.
One of the best suggestions we have has to do with the frequency of revisiting the I-PICK method of choosing books. Our rule of thumb is that we review this lesson with our students, in some form, every single week for the whole school year. It becomes part of the language and expectation. When we teach the lesson whole group, we give children ample time to browse for books in both the classroom library and our school library. In both places, at least one adult is there to offer support.
As the year progresses we fall into a predictable pattern. Each time we meet with a student individually or in a small group, we are touching base about what they are reading, inquiring about the fit of the book in both level and interest. Inevitably there are always students who are notorious for not having a good-fit book. Mine was Trevor. I had him for three years and every single day of his three years with me, I had a standing appointment with him first thing in the morning to help him choose a good-fit book. Some kids are just like that, they need more support in certain areas.
So do we meet with each child individually and help them choose the books for the book box? Not right away. As in everything we do, we know some students will grasp the concept from our whole group instruction, some need support with choosing books in small group instruction, and others will grasp it after repeated individual support.